Pin It
Broccoli and cheddar cheese is a classic combination, and this Broccoli Cheddar Quiche is as good as it looks! Even my oldest daughter devoured it without the usual strong-arming it takes to get her to eat her broccoli. I'm picky about the egg-to-milk ratio in quiche – too much milk makes the filling too "soft" and too many eggs turns it into an omelet – but the ratio in this recipe is perfect. I hope you agree!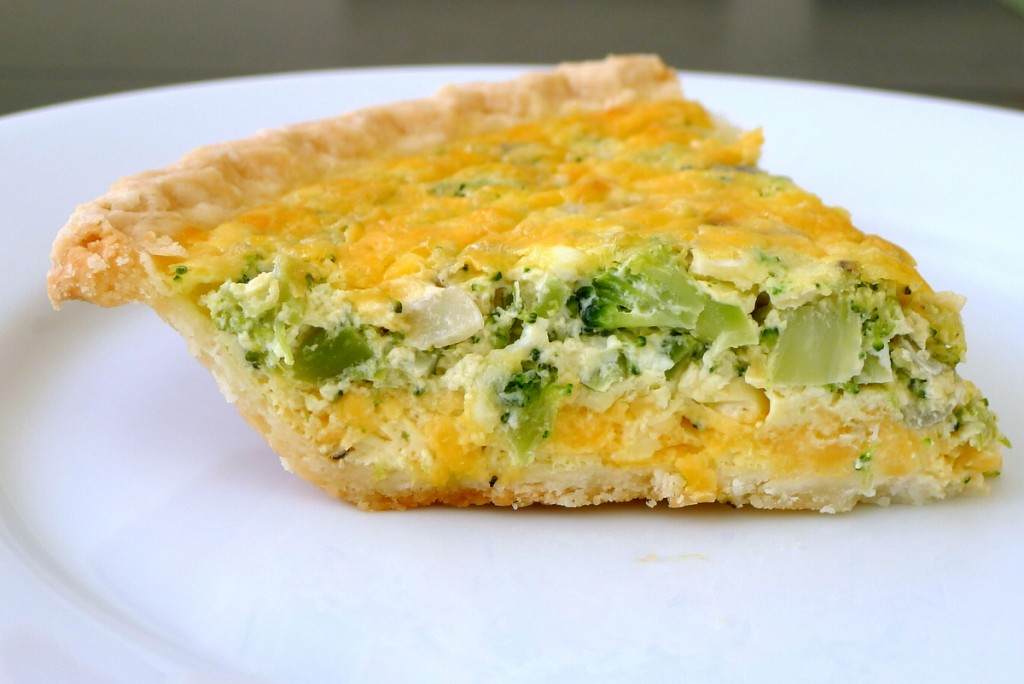 Ingredients
1 tablespoon olive oil
3/4 cup diced red onion
1 clove of garlic, minced
1 cup finely chopped frozen broccoli, thawed and well drained
3 whole eggs
2 egg yolks
3/4 cup whipping cream
3/4 cup milk (1%)
1/2 teaspoon salt
1/8 teaspoon pepper
2 cups shredded cheddar cheese, divided
1 frozen pie crust
Preheat the oven to 350 degrees.
Heat the olive oil in a large skillet over medium-high heat. Add the onion and sauté until soft. Add the garlic and cook for about 30 seconds (reduce heat, if needed, to prevent burning). Stir in the broccoli, and remove the skillet from heat.
In a medium bowl, whisk together the eggs and egg yolks, cream, milk, salt, and pepper.
Press 1 cup of the shredded cheese into the bottom of the pie crust, making sure to cover the entire bottom of the crust. Mix 1/2 cup of the cheese into the broccoli mixture and then add the broccoli mixture to the pie crust. Slowly pour the egg mixture into the pie crust, and then top with the remaining 1/2 cup of cheese.
Bake for about 40-50 minutes, or until the center of the quiche no longer moves, when the quiche is gently jiggled.
Let cool for at least 20 minutes. No, really. If you cut into the quiche too soon, it won't set properly and you'll be left with runny quiche (yuck). This quiche tastes even better the next day, so it's a great recipe to prepare in advance. Enjoy!