Pin It
Hello, my friends! I have some good news to share today: I'm starting a new job next week! I plan on continuing to post delicious recipes for you, but you may notice a trend towards more "make ahead" and easy to prepare meals.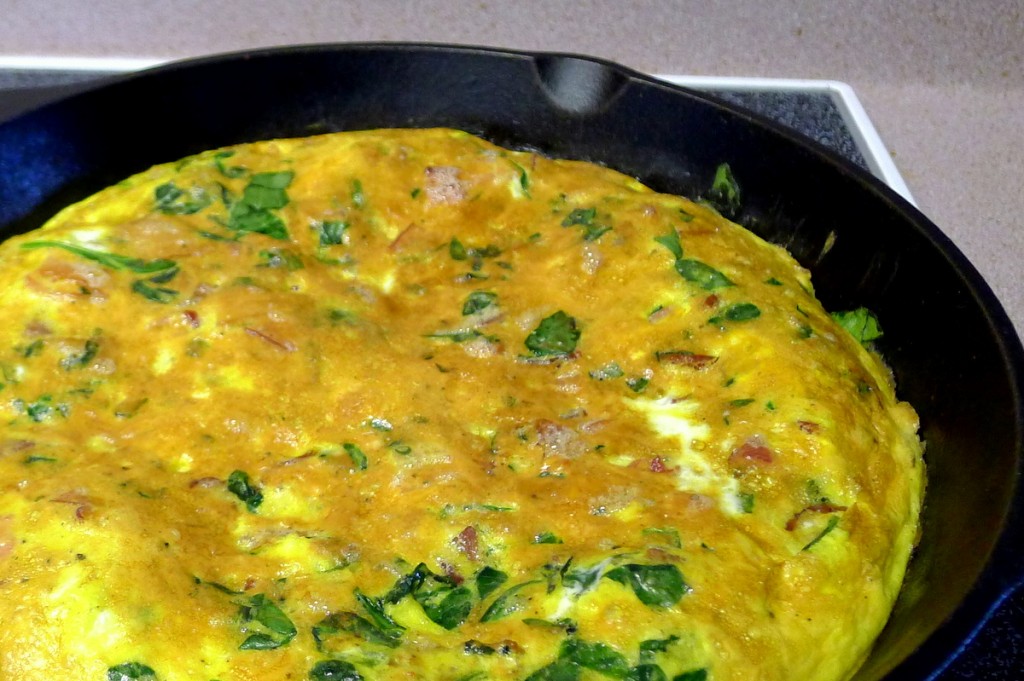 This frittata recipe is a perfect recipe for a busy weeknight. It's tasty, filling, and ready in a flash. I've never made a frittata before, but it's kind of a cross between a crust-less quiche and an omelet, although the flavor is more omelet-y since it doesn't have any cream.
I adapted this from an Alton Brown recipe (I just love him), which you can find here.
Ingredients
6-8 slices of bacon, cooked and chopped*
6 eggs, beaten
1/4 cup shredded parmesan
1/2 teaspoon black pepper
1 teaspoon butter
2 cups of baby spinach, chopped
In a medium bowl, whisk together the eggs, parmesan, and pepper.
Heat a 12-inch cast iron pan (or other oven-proof pan) over medium heat. Add the butter to the pan. When the butter melts, add the chopped bacon and spinach and sauté for about 2 minutes, or until the spinach is wilted.
Pour the eggs into the pan and quickly stir the eggs, bacon, and spinach together. Once combined, stop stirring, and let cook for about 4 or 5 minutes, or until the egg mixture begins to set around the edges.
Meanwhile, preheat the broiler to a low setting and set the oven rack about 6 inches from the heat source.
Once the egg mixture begins to set around the edges, place the pan in the oven and broil for about 3 minutes, or until lightly browned and puffy.
Cut into wedges and serve hot with a big green salad.
*To reduce the time and mess involved in cooking bacon, place the bacon strips in a single layer on a cooling rack, and place the cooling rack on top of a rimmed baking sheet. Bake at 425 degrees for about 15 minutes.