Pin It
Hello my friends. I am 2-weeks in to my new job and I'm loving it, but my weeknights are crazy! I used to have plenty of time for a lengthy dinner preparation, but now I'm getting home around the same time that we used to be sitting down for dinner. So my meal prep time has basically been reduced to zero.  Yet, I still want to provide a healthy and filling meal for my family. What's a hungry mom to do?
Make-ahead meals to the rescue!! [Enter corny super-hero music here]
I simply spend an hour or two on Sunday afternoon, preparing a couple of meals like this yummy Mexican Polenta Casserole. Then during the week, all we have to do is heat up our delicious dinner, and enjoy!  You know the best part? No pile of dirty dishes to wash at the end of the day!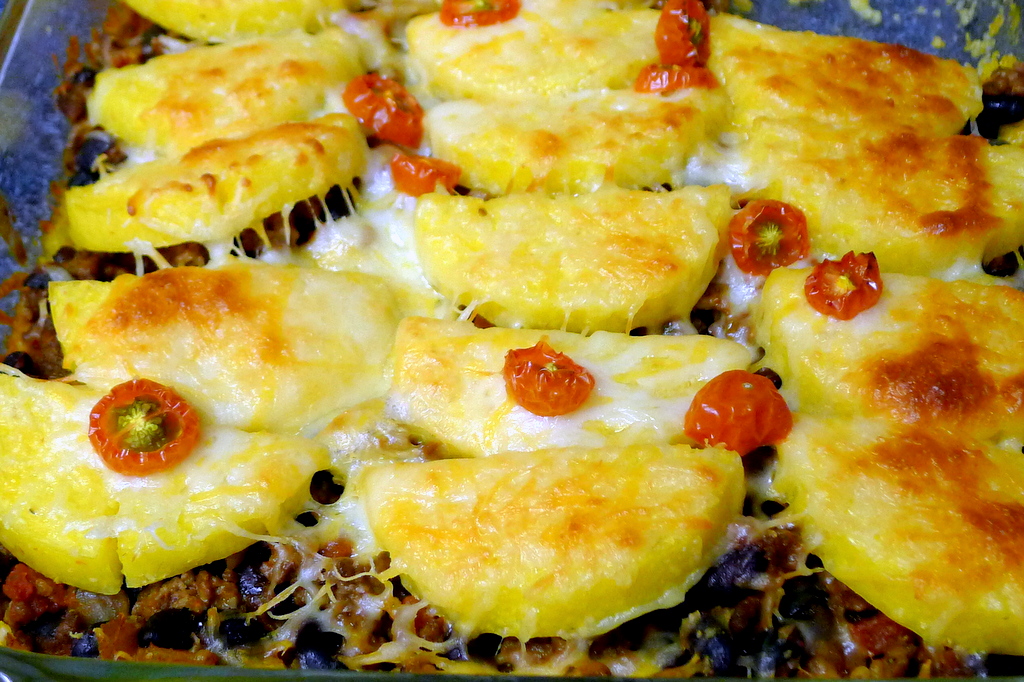 This casserole is full of delicious Mexican flavor, which only gets better after sitting in the fridge for a couple of days. I love how the slices of polenta get crispy around the edges and smothered with melted cheese. Yum!
I adapted this recipe from Recipe.com; click here to see the original recipe.
Ingredients
2 tablespoons vegetable oil, divided
1/2 cup chopped onion
3 cloves garlic, minced
1 pound ground beef
3 tablespoons chili powder
1 tablespoon ground cumin
1/4 teaspoon cayenne pepper
1 15-ounce can black beans, rinsed
1 14-1/2-ounce can diced tomatoes, with juice
1 cup frozen corn, thawed
1 cup bottled salsa
2 16-ounce tubes cooked polenta
2 cups shredded Mexican blend cheese (or your favorite cheese), divided
2/3 cup chopped fresh tomato
Heat 1 tablespoon of the oil in a large skillet over medium-high heat. Add the onion, and sauté for about 2 minutes, or until the onion begins to soften.
Add the garlic, ground beef, chili powder, cumin, and cayenne to the skillet and cook, stirring frequently, until the ground beef is thoroughly cooked.
Preheat the oven to 375 degrees.
Add the beans, canned tomatoes, corn, and salsa to the beef mixture, stirring to combine. Bring to a boil and then reduce heat to low. Simmer gently, uncovered for 15 minutes.
Meanwhile, grease a 13×9 rectangular baking dish with the remaining 1 tablespoon oil.
Cut 1 tube of polenta into small pieces and press evenly into the bottom of the prepared baking dish. (Note: this was a bit labor-intensive. Next time, I may try heating the polenta slightly, so it is easier to press into the bottom of the baking dish. I also think this would be good without the polenta on the bottom – although I haven't tried that yet.)
Halve the remaining tube of polenta lengthwise, cut into 1/2-inch-thick slices, and set aside.
Sprinkle 1 cup of the cheese over the polenta in the baking dish. Top with all of the meat mixture. Arrange the sliced polenta over the meat and then sprinkle with the remaining cheese and the fresh tomato.
Bake, uncovered, for 35 minutes or until bubbly. Let stand 15 to 20 minutes before serving.