Pin It
Hello everyone, I'm back! My work contract is over, and I'm super-excited to get back to blogging now that I have some more time on my hands. Yay!
Have you tried roasted chickpeas (a.k.a. garbanzo beans) yet? If not, I'm so delighted to share this recipe with you. I'm a firm believer that roasting makes everything taste better, and chickpeas are no exception. Roasting turns bland-and-boring chickpeas into little balls of goodness that are tender on the inside and crispy on the outside.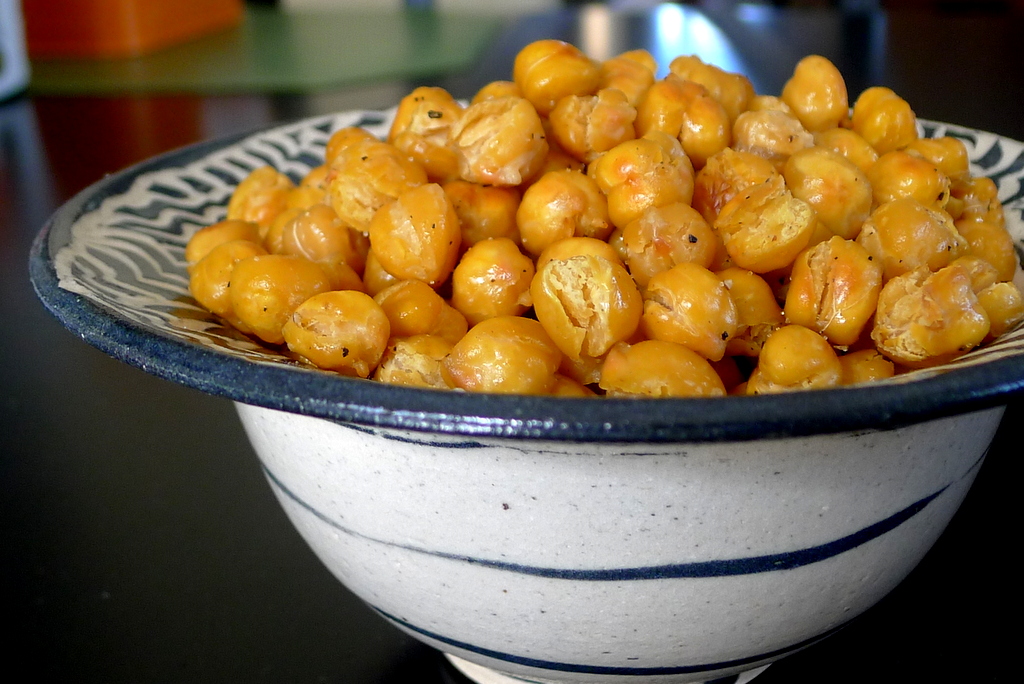 The best thing about these roasted chickpeas is that they are healthy and my kids love them too. In fact, this is one of their favorite after-school snacks (and mine too). Chickpeas are a great source of protein and fiber, as well as several vitamins and minerals such as Folate, vitamin B6, and Manganese.
I started making this recipe with just one can of garbanzo beans, but I found that wasn't enough for three hungry gals, so I make this with two cans now. Sadly for my husband, there still doesn't seem to be any left when he gets home from work.
The basic recipe just calls for salt and pepper, but you can get as adventurous as you like by adding your favorite spices, like paprika, chili powder, cayenne pepper, or even cinnamon and brown sugar for a "dessert" chickpea.
Ingredients
2 15-ounce cans chickpeas (garbanzo beans)
1 tablespoon olive oil (approx.)
Salt and pepper, to taste
Preheat the oven to 400 degrees. Line a baking sheet with 2 layers of paper towels (or a clean dish towel).
Drain and rinse the chickpeas and then put them on the towel-lined baking sheet to dry. If you have time, you can leave them on the baking sheet and let them air-dry, or you can place another towel on top of the chickpeas and roll them around a bit to dry them off.
Once dry, add the chickpeas to a large bowl and combine with the olive oil. You want enough oil to coat every chickpea. Sprinkle with salt and pepper and stir gently.
First, remove the towels from the baking sheet and then pour the chickpeas onto the baking sheet. Be sure to spread them out in a single layer.
Bake in the preheated oven for about 30 minutes, or until the chickpeas are golden-brown. Shake the baking sheet every 10-15 minutes to keep them from sticking.
Let cool and add more salt and pepper, if desired.
Enjoy and happy snacking!