Pin It
Do you ever find yourself torn between wanting something healthy for dinner, and not wanting to spend a lot of time slaving over a stove? Well, my friends, this is the recipe for you.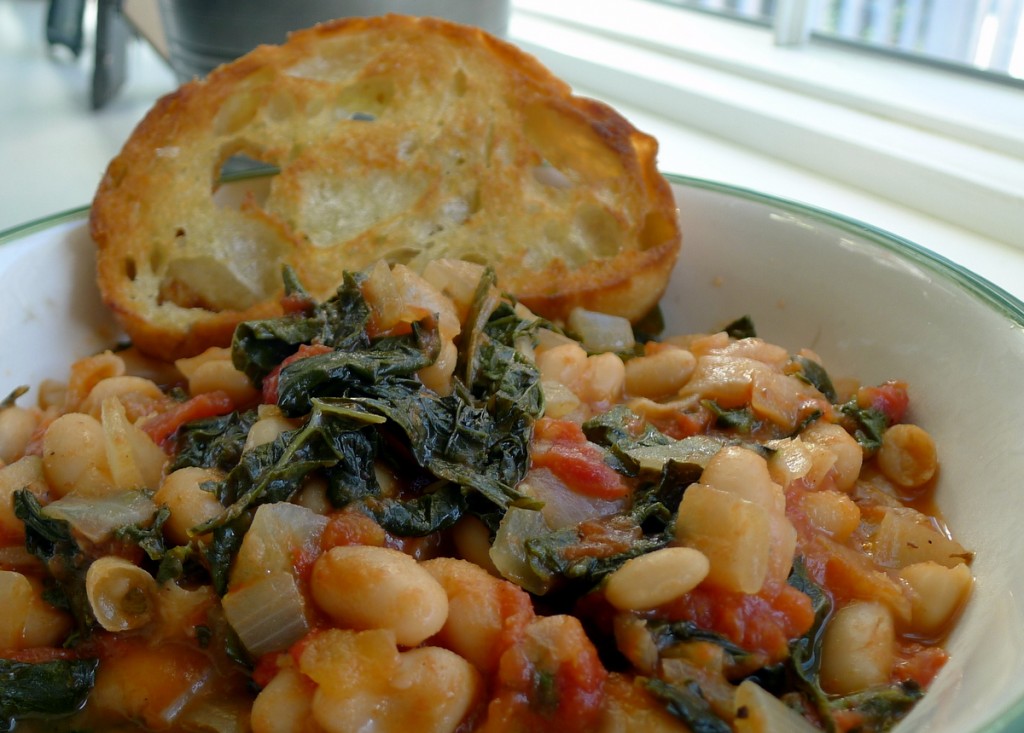 This main dish stew is healthy, easy to prepare, and full of comforting flavor. Plus, you'll probably spend more time chopping the vegetables (which really doesn't take that long) than you will at the stove.
All of the ingredients are combined in a big pot and then left to get better acquainted, while you relax with a glass of wine (just a suggestion), and look forward to the flavorful white beans and tender kale. Now do you see why I love one-pot meals?
Ingredients
2 tablespoons olive oil
1 cup chopped onion
1 bunch kale, stems removed and leaves coarsely chopped
1 14-ounce can diced tomatoes
2 cloves garlic, pressed
1 1/2 cups chicken broth
2 bay leaves
1 teaspoon dried oregano
1 teaspoon chopped fresh basil
1/2 teaspoon ground cumin
Dash cayenne pepper
2 15-ounce cans cannellini beans, drained and rinsed
Salt and black pepper, to taste
Add the olive oil to an extra-deep skillet (a dutch oven or large pot will work too) and heat over medium-high heat. Add the onions and kale and cook, stirring frequently, for about 4 minutes, or until the onions soften and the kale wilts.
Reduce the heat to low. Stir in the diced tomatoes (with juice), garlic, chicken broth, bay leaves, oregano, basil, cumin, and cayenne pepper.
Cover and simmer until the kale is tender, about 45 minutes. (Now's your time to relax – don't forget your glass of wine!)
Stir in the beans and continue to simmer for about 10 minutes.
Take a bite (careful, it's hot!) and add some salt and pepper to taste.
Serve with your favorite crusty bread, or try my Olive Oil Toast recipe. Enjoy!