Pin It
When the weather cools down, I start to crave flavorful meals like this orzo pasta with sage, bacon and butternut squash. The sage pairs beautifully with the salty bacon and slightly sweet squash. The flavors are perfect for a crisp fall day.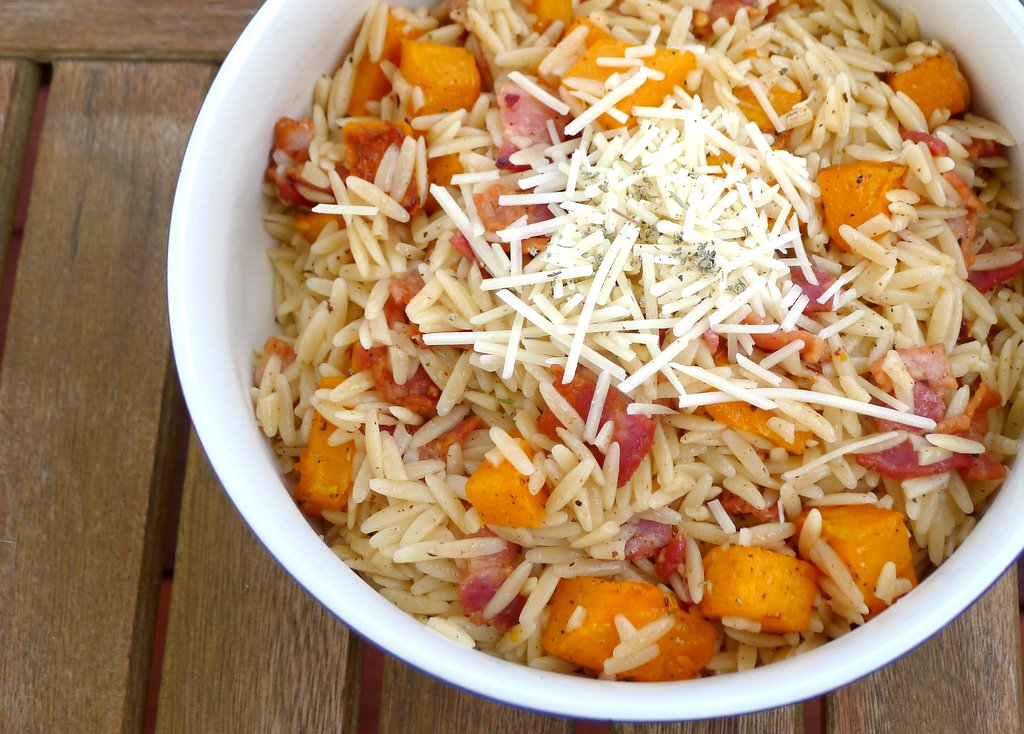 This recipe is quick and easy to put together – great for a weeknight. You could even roast the butternut squash and cook the orzo ahead of time, to make the prep even faster.
Ingredients
1 medium butternut squash, peeled, seeded, and cut into 1/2-inch pieces
1 tablespoon olive oil
1 cup orzo pasta
1/2 pound bacon, chopped
1 teaspoon dried sage
1/2 teaspoon onion powder
1/4 teaspoon crushed red pepper
Salt and pepper
Shredded parmesan cheese
Preheat your oven to 400 degrees. Add the chopped butternut squash and olive oil to a large bowl, and toss to coat. Sprinkle with salt (to taste) and toss again. Spread the squash evenly on a large baking sheet, and roast for 30 minutes, stirring once.
Meanwhile, cook the orzo al dente, per the package directions. Drain, reserving about 1/2 cup of the cooking water.
While the orzo is cooking, cook the chopped bacon in a large skillet over medium heat until crisp. Remove the bacon to a plate and carefully pour all but about 3 tablespoons of the bacon drippings into a glass measuring cup (or small bowl). Reduce the heat to low.
Add the sage, onion power, and crushed red pepper to the skillet and cook, stirring, for about 1 minute. Add the roasted butternut squash, cooked orzo, and bacon to the skillet, stirring gently to combine. Gradually add the reserved orzo cooking water until the sauce reaches the desired consistency (you may not need to use it all). If needed, you can also add more of the reserved bacon drippings. Season with salt and pepper, to taste. Cook over low heat until the ingredients are heated through.
Serve topped with shredded parmesan. Enjoy!