Pin It
I love chiles rellenos, but I don't always have time to make them. If you do have time though, I highly recommend my recipe for chiles rellenos that you can find here.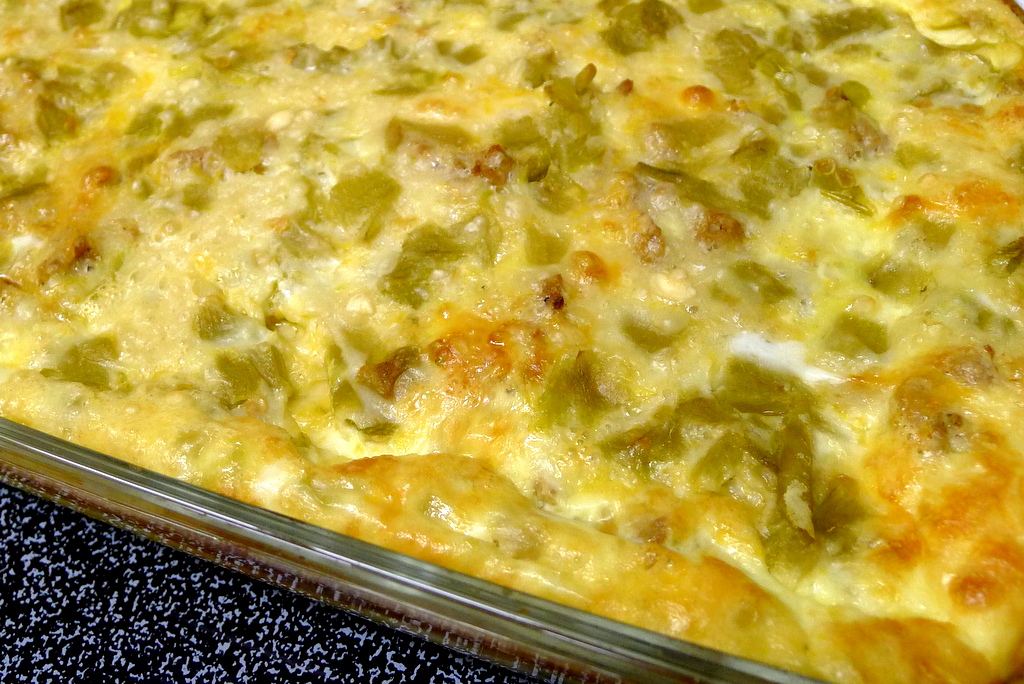 This chiles rellenos casserole has the flavor of classic chiles rellenos, but is more family friendly and easier to prepare. I've added some ground turkey for a more substantial meal, but it would also be great as a meatless casserole.
I used the "Mexican" blend of shredded cheese, but you could try pepper jack if you like it spicy, or even add some cream cheese for a creamier texture.
Ingredients
1 lb ground turkey
1/2 onion, diced
1 teaspoon ground cumin
1/2 teaspoon garlic powder
1/2 teaspoon chili powder
1/2 teaspoon salt
1/4 teaspoon pepper
1/8 teaspoon cayenne pepper
1-2 cans whole green chiles (depending on the size)
2-3 cups shredded cheese, divided
1 can chopped green chiles
4 eggs
1 1/2 cups milk
1/4 cup flour
Preheat the oven to 375 degrees.
Heat a large skillet over medium-high heat. Add the ground turkey and onion, and cook, breaking up the turkey into small pieces with a spatula. Stir in the cumin, garlic powder, chili powder, salt, pepper, and cayenne pepper. When the turkey is fully cooked, remove the skillet from the heat and set aside.
Remove one of the whole green chiles from the can and tear one side of the chile open, so the chile lies flat. Scrape out any seeds, and then lay the chile flat in the bottom of a 7×11 inch baking dish (or similar size). Continue until the bottom of the baking dish is completely covered with chiles.
Top the chiles with about 1 cup of shredded cheese, and then all of the meat. Cover the meat with the remaining shredded cheese. Drain the can of diced green chilies and sprinkle them on top of the cheese.
In a medium bowl, whisk together the eggs, milk, and flour. Slowly pour the egg mixture into the casserole dish.
Bake for about 50 minutes until bubbly and golden brown. Let cool for about 10 minutes before serving.