Pin It
Chili is a simple meal, consisting usually of meat, beans, tomatoes, and spices, but if you ask 10 different people to describe the perfect chili, you will likely get 10 different answers. I, for example, like to have veggies in my chili, but my husband considers this chili blasphemy. (That doesn't stop him from devouring several bowls of my chili, however.)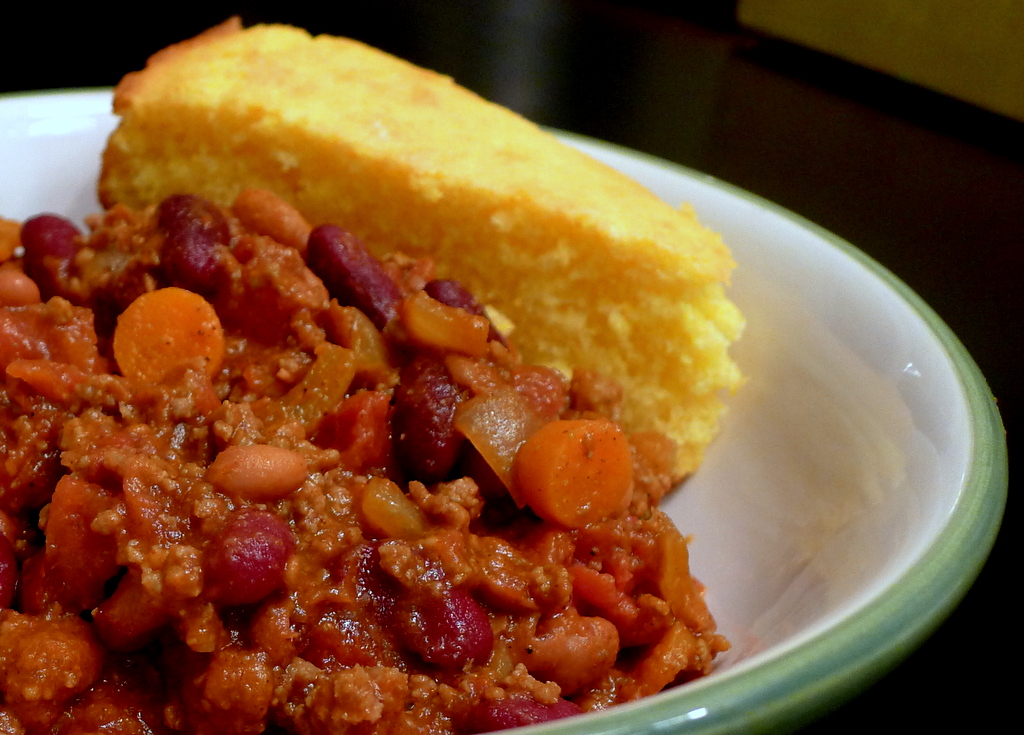 I realize that your idea of the ideal pot of chili may be different than mine, but for me, this is the perfect beef chili: thick, hearty, and tons of flavor (without being spicy). I keep the chili mild, for my kids, but I like to add a dash or two of hot sauce to my bowl, after serving. If you like your chili spicy, then you can add a couple of diced chili peppers, before simmering.
Ingredients
1 lb ground beef
1 15oz can pinto beans, drained and rinsed
1 15 oz can kidney beans, drained and rinsed
1 28oz can diced tomatoes, with juice
4 tablespoons tomato paste
2 stalks celery, chopped
1 carrot, chopped
1/2 onion, chopped
1/2 red bell pepper, chopped
2 cubes beef bouillon
1/4 cup beer
1 tablespoon Worcestershire sauce
1 ½ tablespoons chili powder
1 teaspoon hot New Mexico chili powder
1 teaspoon cumin
1 teaspoon salt
1/2 teaspoon black pepper
1/2 teaspoon paprika
1-2 cloves of garlic, minced
1/4 cup of water
Heat a large pot over medium-high heat. Add the ground beef, and cook, using a spatula to break the beef up into small pieces. When cooked through, drain the excess grease and return to the stove.
Add all of the remaining ingredients to the pot, stirring well to combine. Cover, reduce heat to low, and simmer for about 2 hours.
Serve hot, with a slice of cornbread.