Pin It
Wow, I can't believe it's already September! I feel like I'm travelling through this year in light-speed. Pretty soon it will be fall, and I can start using my favorite appliance: the oven!
As much as I love my oven, I'm not ready to give up on grilling season just yet. How else could I make amazing recipes like this Hawaiian Chicken with Grilled Pineapple? Feast your eyes . . .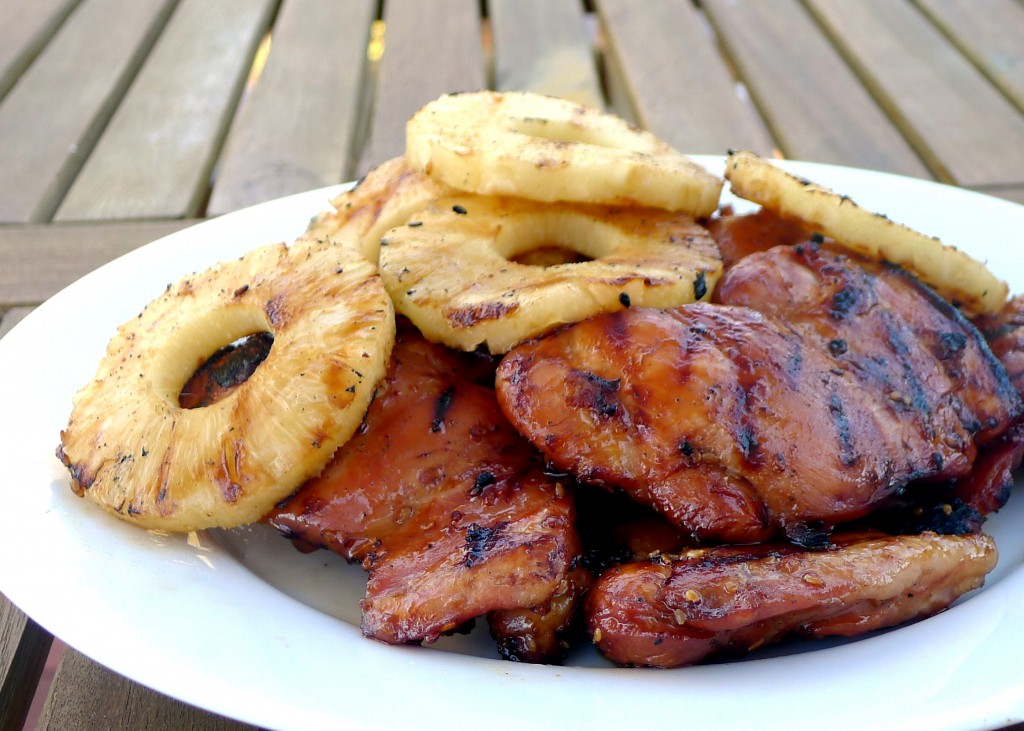 Infused with teriyaki and pineapple flavors, the chicken is the perfect combination of sweet and savory. Grilling the pineapple caramelizes the natural sugars in the fruit which adds amazing flavor to this dish.
A thick teriyaki sauce works best in this recipe. I used a Kona Coast teriyaki sauce that was chock-full of sesame seeds (yum!).
Ingredients
3/4 cup teriyaki sauce with sesame seeds
1/2 cup pineapple juice
1/3 cup low sodium soy sauce
1/4 cup brown sugar
1 clove of garlic, minced
1/4 teaspoon black pepper
2 pounds boneless, skinless chicken thighs
1 can sliced pineapple
Whisk together the teriyaki sauce, pineapple juice, soy sauce, brown sugar, garlic, and pepper.
Put the chicken in a large zip-top bag, or a large bowl. Pour the marinade over the chicken and toss to ensure that the chicken is thoroughly coated. Let the chicken marinate in the refrigerator for at least 2 hours, or overnight.
Preheat the grill to medium-high heat.
Remove the chicken from the marinade, and pour the marinade into a small saucepan.
Grill the chicken for 6-8 minutes per side. While the chicken is cooking, bring the marinade to a boil and cook for about 3-5 minutes over high heat, stirring occasionally. (Note: if you want the sauce to be thicker, continue cooking until the sauce is reduced to the desired consistency.)
When the chicken is almost done, add the sliced pineapple to the grill, and cook for about 1-2 minutes per side.
Serve the chicken and grilled pineapple with the sauce drizzled over the top, alongside rice and your favorite veggie. Enjoy!
Adapted from LWSL.