Pin It
This luscious White Chocolate Key Lime Pie is as good as it sounds. It's sweet and tart at the same time, with the creamy texture of cheesecake. Best of all, there's no baking required, so it's perfect for summer!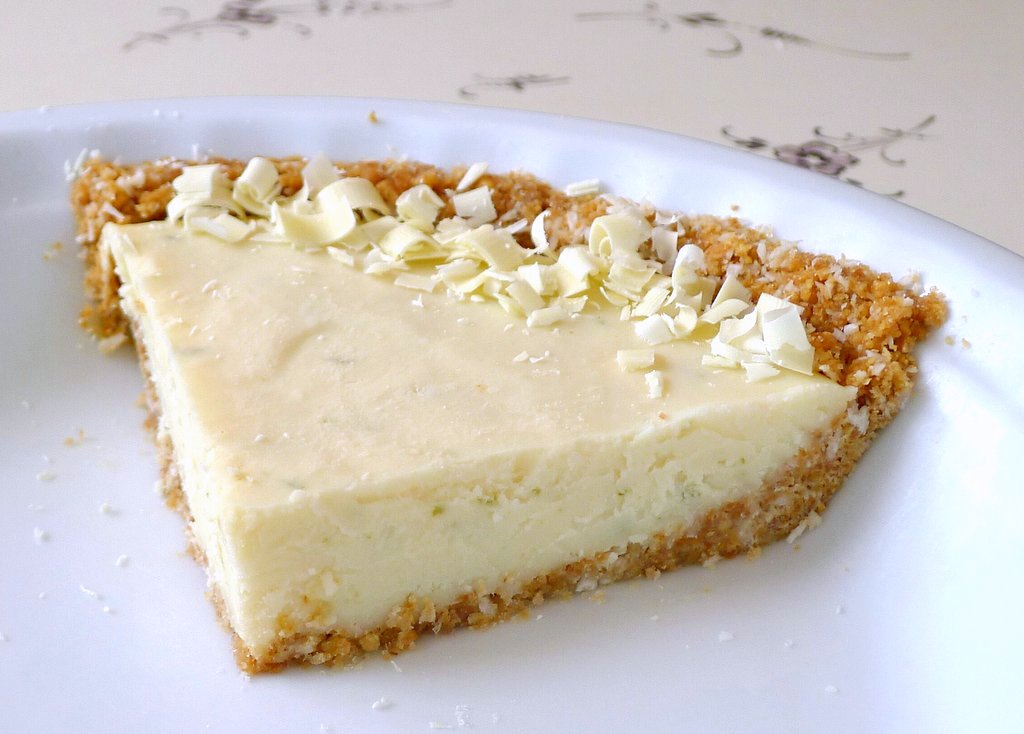 It's really easy to put together too . . . well, except for squeezing the juice from all of those @#$% tiny key limes. The key lime flavor really is worth the effort, but I won't judge if you choose to use regular limes instead. My grocery store sells bags of key limes that happen to yield exactly the amount of juice need to make this pie. I neglected to count the number of key limes in the bag, but I'm guessing it was around 15 or so.
I've been on a coconut kick lately, so I decided to jazz up the standard graham cracker crust with some unsweetened shredded coconut, which was a perfect complement to the tangy lime flavor of the pie.
I made this pie for Easter, but it would also be perfect for Mother's Day (hint-hint dads). It is very rich, so plan to serve small slices. We had 8 adults tackle this pie (some of whom had seconds), and still only made it through ¾ of the pie (I have the rest of the pie in the freezer, but haven't had an excuse thaw it out yet. I'll be sure to let you know if it freezes well or not).
Ingredients
Crust:
1 cup graham cracker crumbs
1/2 cup unsweetened shredded coconut
1/4 cup sugar
1/2 cup butter, melted
Filling:
1 cup heavy whipping cream
11 ounces white chocolate chips*
1 tablespoon sour cream
1 teaspoon lime zest
1/3 cup key lime juice
Optional: additional white chocolate for garnish
To make the crust, mix together the graham cracker crumbs, coconut, and sugar in a medium bowl. Pour in the melted butter and stir until thoroughly combined. Press the mixture into the bottom and up the sides of a 9-inch pie plate. Refrigerate for at least 30 minutes before filling.
To make the filling, add the cream and white chocolate chips to a small saucepan over low heat. Cook over low heat, stirring frequently, until completely melted and smooth. Remove from heat and stir in the sour cream, lime zest, and lime juice.
Pour the filling into the prepared pie crust. Cover and refrigerate at least 8 hours, or overnight. Before serving, garnish with white chocolate, if desired. Enjoy!
* Note: some chocolate chips contain fillers that help them keep their shape, but can result in a grainy texture when melted. I had good results with Ghirardelli White Baking Chips. You can also use baking bars, but they are generally more expensive than chocolate chips.