Pin It
This maple coconut quinoa (yes, I said quinoa) granola is so good! The maple and coconut flavors pair really well together and the quinoa adds a great crunch.
I created this recipe out of desperation. I've had tummy trouble for as long as I can remember, so I've recently started the low FODMAP diet to see if I can pinpoint the cause. You can read more about the low FODMAP diet here if you're interested, but in a nutshell, I have to eliminate a number of "problem" foods for several weeks and then slowly add them back to determine which foods are triggering my symptoms. That means some of my favorite foods are now off-limits (cereal with milk, apples with peanut butter, avocados, bread, ice cream (gasp!), etc).
Desperate to find a low FODMAP snack that I could enjoy (gluten-free, dairy-free, etc), I came up with this recipe, and boy am I glad that I did! I would eat this over wheat cereal any day. Even my kids and husband loved it.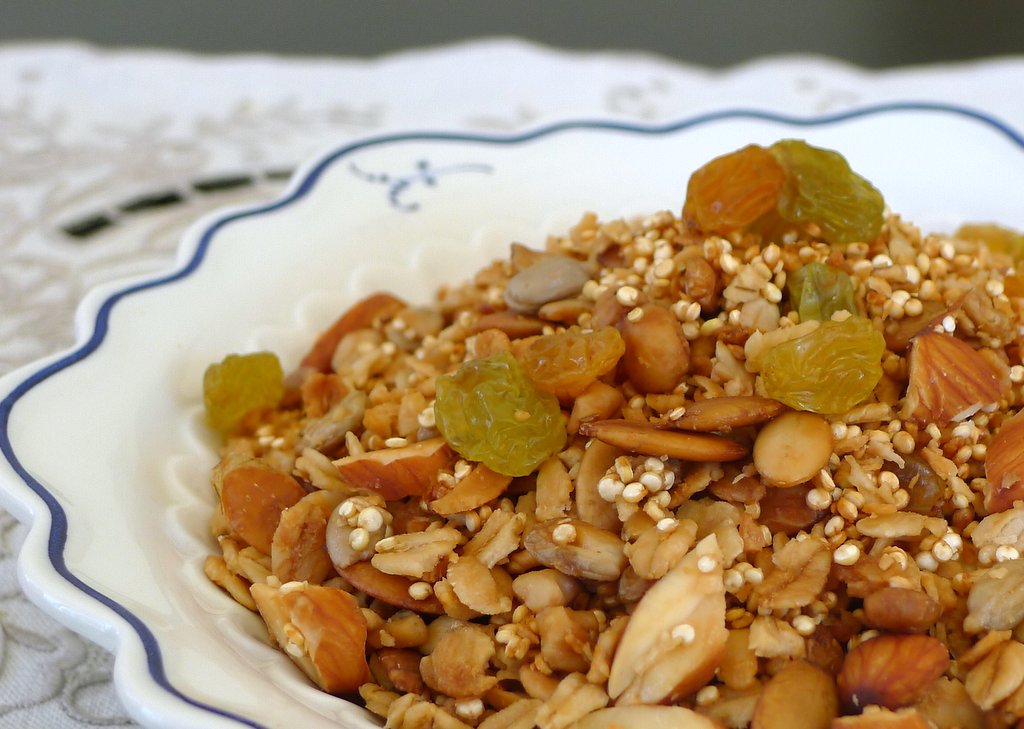 My favorite way to eat this granola is sprinkled over yogurt (lactose-free for me) with some frozen raspberries. Yum!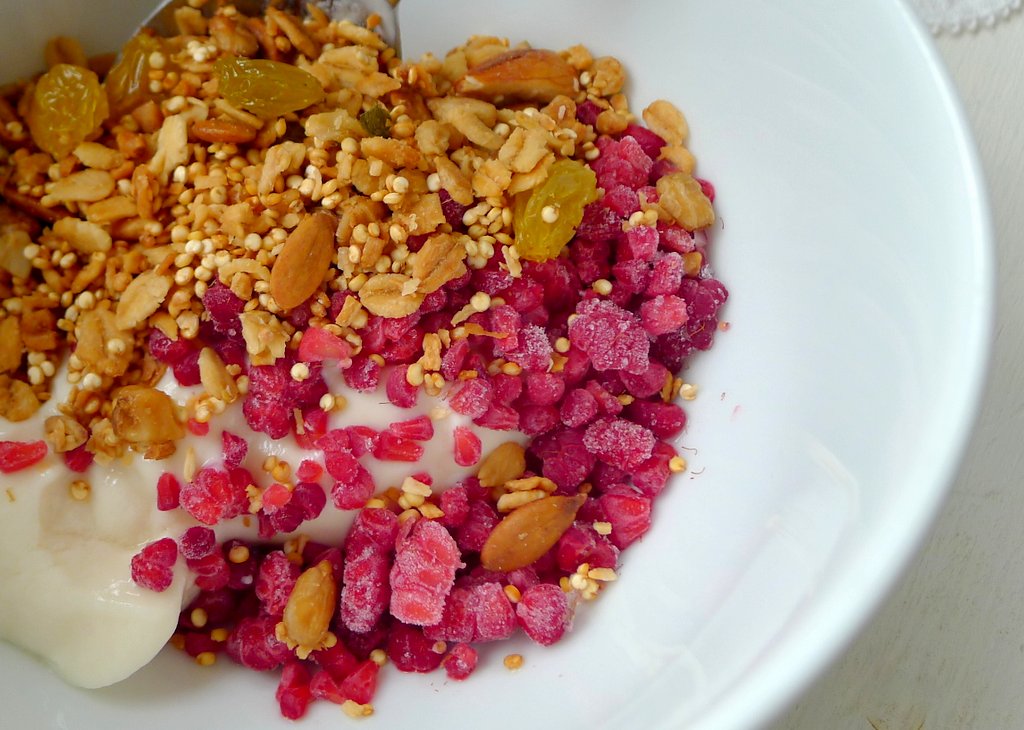 Keep in mind that raisins, almonds, sunflower seeds, and pumpkin seeds are considered low FODMAP as long as they are kept in small quantities (2 tablespoons or less), so keep your portions small if you are following a low FODMAP diet.
I also recommend soaking the nuts and seeds prior to making this recipe, especially if you have trouble digesting them. The soaking/drying process will take about 24 hours, so be sure to start the day before you want to make the granola. Or you can skip the soaking process if you're short on time.
Ingredients
3/4 cup uncooked quinoa
1 cup pre-soaked nut/seed mix (instructions below)
1/2 cup gluten-free oats
1/2 cup unsweetened shredded coconut
1/2 teaspoon sea salt
1/4 cup coconut oil, melted
1/3 cup maple syrup
1/4 cup golden raisins
Preheat the oven to 350 degrees.
Pour the quinoa into a fine mesh strainer and rinse well under cold water to remove the bitter coating. Add the rinsed quinoa, nuts/seeds, oats, shredded coconut, and salt to a large bowl and stir to combine. (Note: if you are using pre-soaked nuts/seeds (instructions below) they will be lightly salted, so you may want to reduce the amount of salt in the recipe.) Pour in the melted coconut oil and maple syrup and mix together until evenly coated.
Spread the granola out on a large cookie sheet and bake in the preheated oven for 20-25 minutes, stirring a few times during baking. Remove from the oven and stir in the golden raisins, then let cool for at least 15 minutes. Store in an airtight container on the counter.
Nut/Seed Soaking Instructions:
Fill a large bowl with warm water and mix in a tablespoon of salt.
Add raw sunflower seeds, raw pumpkin seeds, chopped walnuts and chopped almonds to the bowl (or your favorite nuts and seeds).
Soak nuts in the salt water overnight for 10 – 12 hours.
Preheat the oven to 125 degrees.
Drain the nuts and spread onto a large baking sheet and bake in the preheated oven for about 10 hours (this will dry out the nuts and prevent them from getting moldy).