Pin It
These Apple Pumpkin Muffins are so good! It's like apple pie and pumpkin pie combined, but much healthier. I used 2 cups of Truvia Baking Blend, but the muffins were a bit too sweet for my taste, so I suggest using a bit less sugar (or your favorite sugar alternative). These muffins are excellent with my morning coffee or tea and are healthy enough to feel good about packing them in my children's lunch boxes.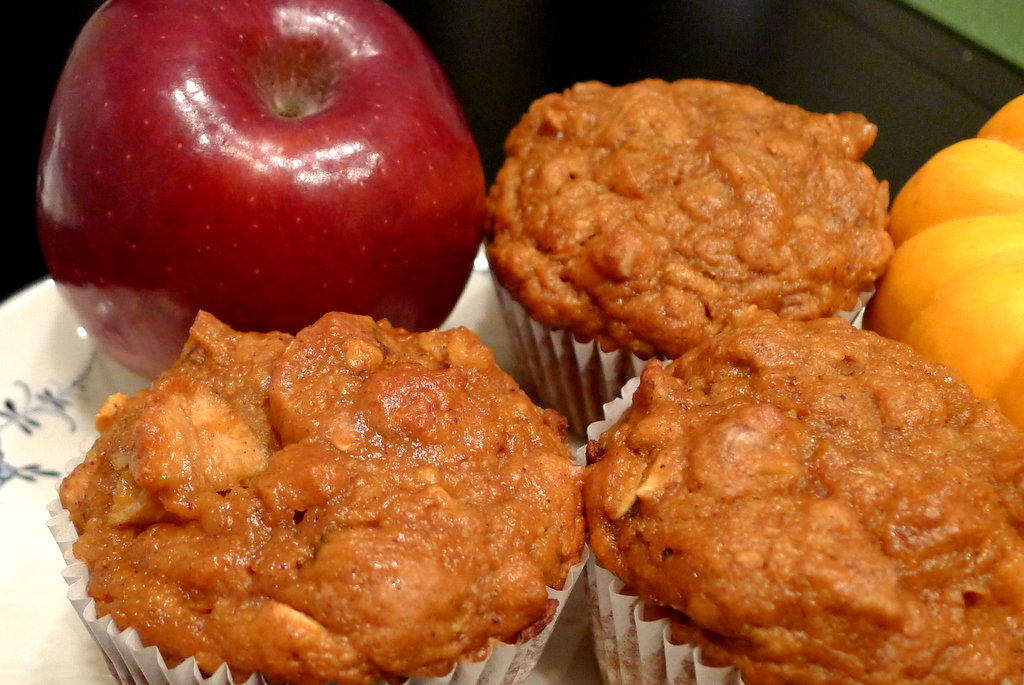 Ingredients
1 cup whole wheat flour
1 cup all-purpose flour
1/2 cup old fashioned oats
1 1/2 cups Truvia Baking Blend (or your favorite sugar/sweetener)
1 teaspoon cinnamon
1 teaspoon ground ginger
1/2 teaspoon ground nutmeg
1/4 teaspoon ground cloves
1 teaspoon baking soda
1/2 teaspoon salt
2 eggs, lightly beaten
1 15oz can canned pumpkin puree
1/2 cup applesauce
2 cups, peeled and chopped apple
1 cup chopped walnuts
Preheat the oven to 350 degrees. Grease or line 18 muffin cups.
Add the flours, oats, Truvia (or sugar), cinnamon, ginger, nutmeg, cloves, baking soda, and salt to a large bowl, and whisk together until well combined.
In a separate bowl, mix together the eggs, pumpkin, and applesauce. Add this mixture to the flour mixture, stirring until just combined. Fold in the chopped apples and walnuts. Spoon the batter evenly among the 18 muffin cups.
Bake for 35-40 minutes, or until the tops of the muffins spring back when lightly tapped.