Pin It
I have recently discovered little cans of chipotle peppers in adobo sauce in the Hispanic food section of my grocery store. They are my newest pantry staple. The adobo sauce adds a smoky spiciness to food that really makes the flavor pop.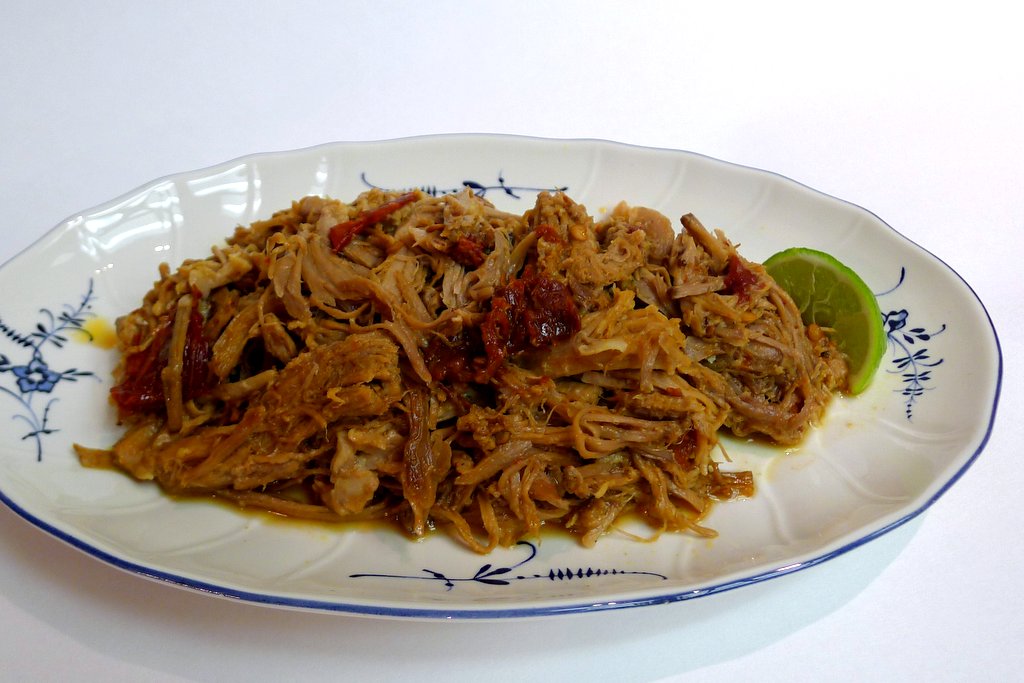 This pulled pork recipe features chipotle peppers in adobo sauce, complimented by honey and fresh squeezed lime juice. The pork is sweet, smoky, spicy, and tangy. The best part is that it's cooked in the Crock Pot! I served this on toasted buns, but it would also be great in tacos or a burrito bowl.
Ingredients
1/2 cup juice from 3-4 limes
1/3 cup honey
1 7-ounce can chipotle peppers in adobo sauce (you won't need the entire can)
1 tablespoon balsamic vinegar
1 clove of garlic, minced
1 teaspoon salt
3-4 pound bone-in pork shoulder
Stir together the lime juice and honey in a small bowl. (Note: it may help to warm the honey a bit first.) Add 3 of the canned chipotle peppers (don't worry about chopping them up) and 2 tablespoons of the adobo sauce from the can to the bowl. Refrigerate the remaining chipotle peppers and adobo sauce to use in another recipe (eggs, roasted sweet potatoes, chicken, etc). Add the balsamic vinegar, garlic, and salt to the bowl and stir to combine.
Pour about half of the sauce into the bottom of your Crock Pot. Place the pork shoulder in the Crock Pot and then pour the remaining sauce over the top of the pork.
Cook on high heat for about 4.5 hours (or low for 8-9 hours). Use a large spoon to skim any excess fat off the top of the sauce, and then shred the pork using two forks and mix well to incorporate into the sauce. Season with salt, if needed. Serve hot and enjoy!