Pin It
Jambalaya! It's a fun word to say, don't you think? Say it with me! JAM-BA-LAYA!
Jambalaya is basically a thick rice stew filled with sausage, shrimp, beans, veggies, and lots of flavor. My recipe is on the mild side, so my kids will eat it, but you can make yours spicier by increasing the cayenne pepper and adding some of your favorite hot sauce.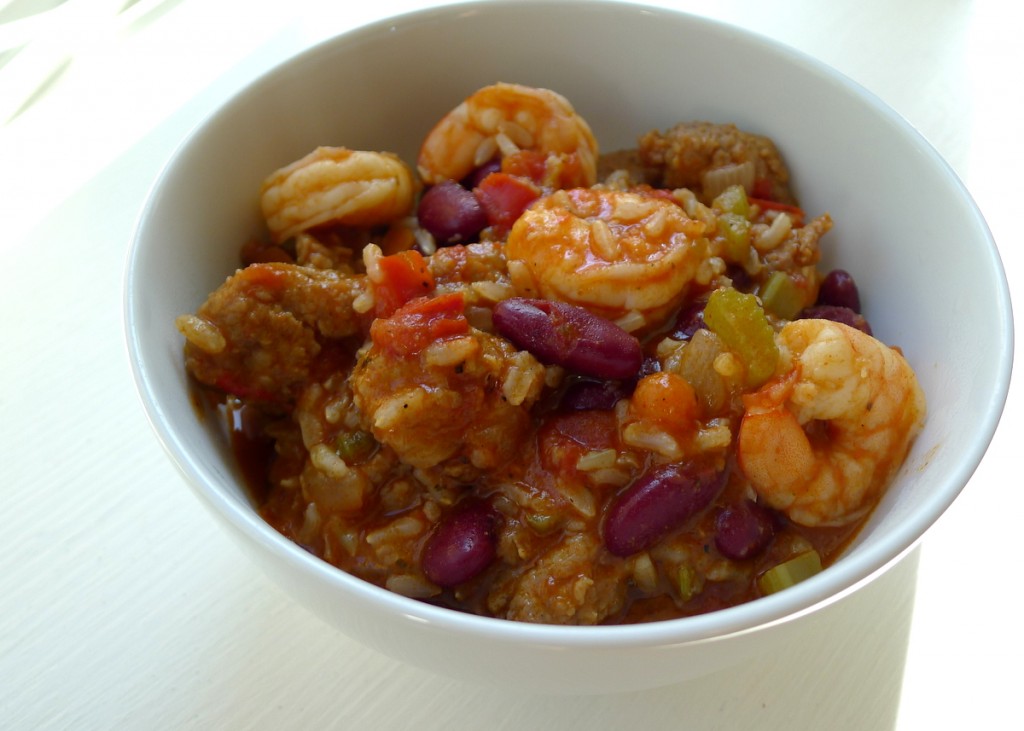 Ingredients
2 tablespoons vegetable oil
1 pound bulk Italian sausage
1 onion, chopped
1 bell pepper, chopped
2 celery stalks, chopped
1 cup diced carrots
1 teaspoon paprika
Dash cayenne pepper
1 can red kidney beans, drained, but not rinsed
1 can diced Italian tomatoes, with juice
1 garlic clove, pressed
1 teaspoon sea salt
1 teaspoon black pepper
1 pound large shrimp, peeled and deveined
2 cups cooked brown rice
Add oil to your largest, heavy skillet and heat over medium-high heat. Add the sausage, onion, bell pepper, celery, and carrots to the skillet. Using a spatula, break the sausage up into bite-sized pieces. Sauté, stirring frequently, until the sausage is browned and the veggies begin to soften. Reduce the heat, if needed to prevent burning.
Add the paprika and cayenne pepper to the skillet and cook for about 1 minute.
Add the beans, tomatoes, garlic, salt and pepper to the skillet. Stir to combine, reduce heat to low, cover and simmer for about 25 minutes.
Stir in the shrimp and rice, then replace the lid and let cook for about 5 minutes, or until the shrimp is thoroughly cooked. Serve hot and enjoy!