Pin It
So, remember a couple of weeks ago when I said I was going to be posting some healthier recipes for us? Well, this is not one of them. It is absolutely delicious though, and worth every calorie. The chicken is tender and delicious, but the sauce makes this dish! It's hard to go wrong with heavy cream.
Me + bowl of paprika cream sauce + stretch pants = happy girl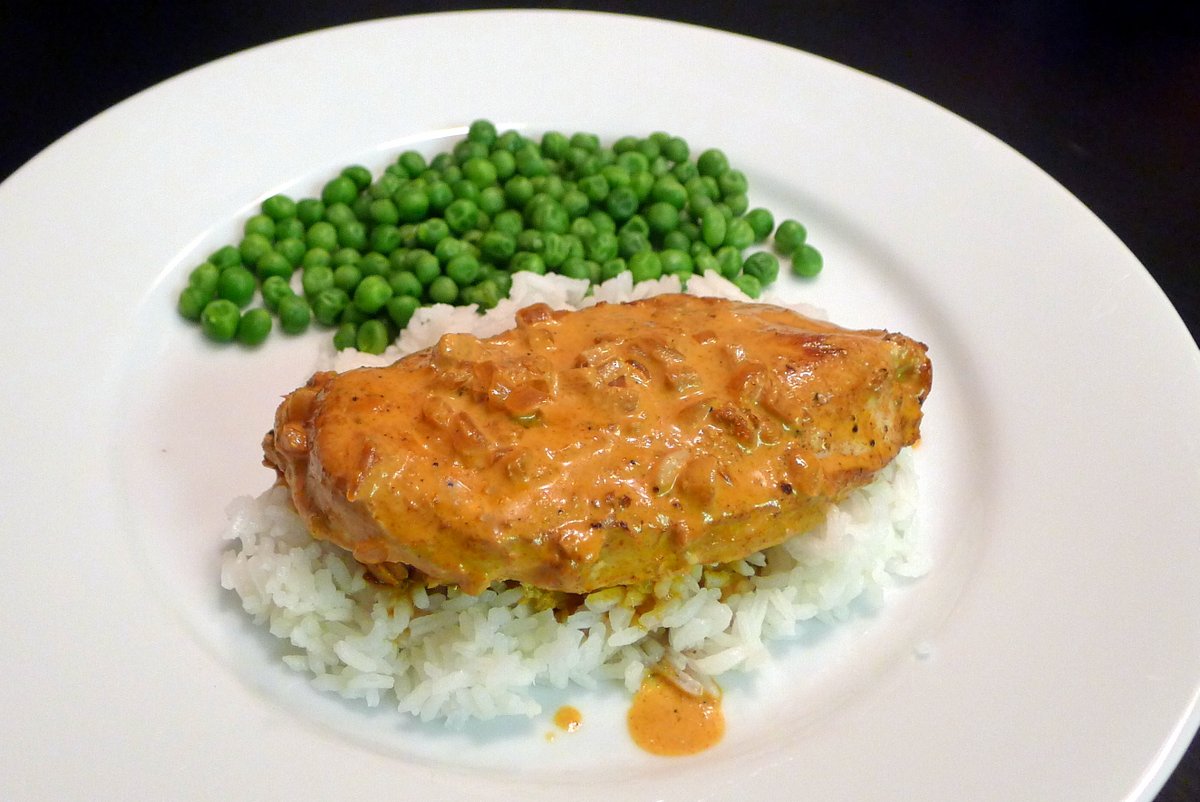 Ingredients
2 tablespoons olive oil
3 tablespoons butter, divided
3-4 boneless, skinless chicken breasts
2/3 cup minced onions
1 tablespoons paprika
1/2 cup chicken broth
1 cup heavy cream
Salt
Pepper
Heat the olive oil and 2 tablespoons of the butter in a large skillet over medium-high heat. Season the chicken with a bit of salt and pepper. Add two chicken breasts to the skillet, or as many as will fit without touching. Cook until the chicken is golden-brown on the bottom, about 3 minutes, then flip and cook the other side for another 3 minutes or so. Reduce the heat to medium, if needed, to prevent burning. Your chicken most likely won't be cooked through at this point (if the chicken feels soft when you press on the top, then it's still pink in the middle), so cover the skillet with a lid and cook for 3-5 more minutes, or until the chicken is cooked through (it should feel firm and the juices should run clear). (Note: the lid creates steam inside the skillet which cooks the inside of the chicken much faster.)
Safety warning: Keep the lid level (don't tilt it) when you take the lid off the skillet; otherwise the condensation on the lid will drip down into the hot oil in the skillet and cause the hot oil to splatter.
Remove the cooked chicken from the skillet, keep warm, and repeat the above process for the remaining chicken breasts. Once all of the chicken is cooked, remove it to a plate and keep warm.
Turn the heat down to low and add the remaining 1 tablespoon of butter to the skillet. Add the onions, paprika, and 1/8 teaspoon of salt. Cook over low heat, stirring often, for 2-3 minutes or until the onions soften, being careful not to burn the paprika.
Add the chicken broth to the skillet and turn the heat up to high. Be sure to scrape up all of the yummy brown bits from the bottom of the pan. Boil over high heat until the liquid has thickened and reduced by at least half. Add the heavy cream and boil until thickened slightly. Remove from heat and season with salt and pepper to taste.
Add the cooked chicken back to the skillet and turn to coat. Serve the chicken over rice with a generous spoonful of sauce. Enjoy!
*adapted from Mastering the Art of French Cooking