Pin It
My dad recently sent me this chicken recipe, which he says received rave-reviews from his dinner guests. Of course I had to try it, and I have to agree – this is one tasty dish! It is full of flavor . . . actually, I'll let my dad describe it to you . . .
"This recipe offers an exotic blend of flavors, orchestrated by the turmeric, that will appeal to adults, but probably not children. It assumes a Dutch oven but will work just as well in a crock pot or other lidded vessel. In that case, do the initial sauteing in a frying pan and transfer to the final cook pot."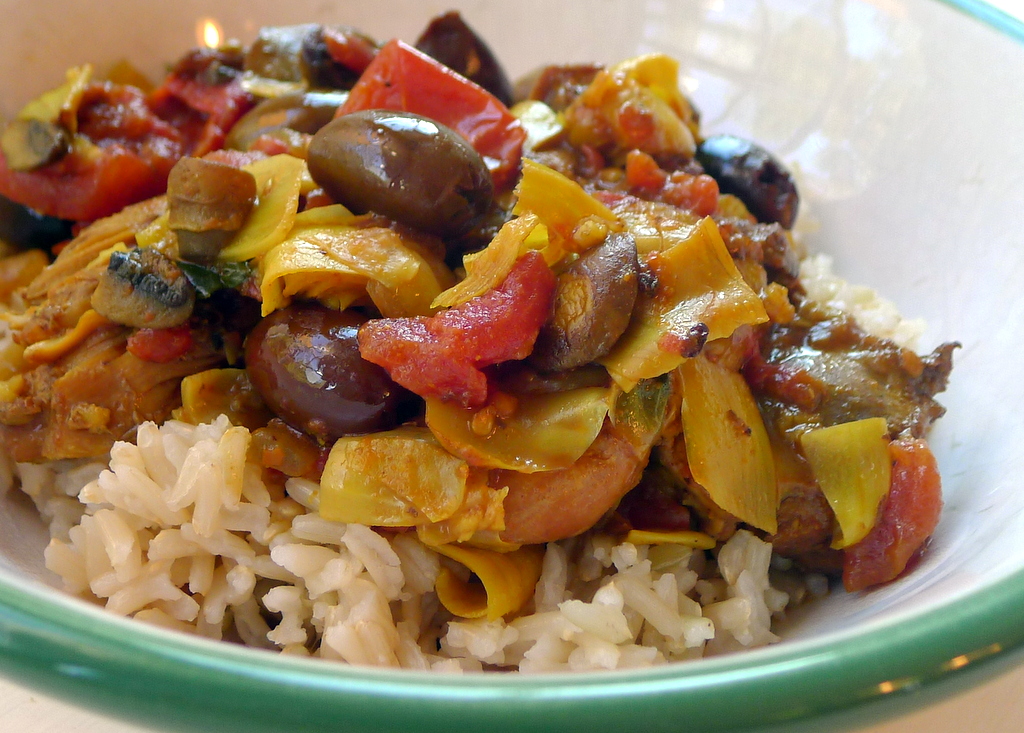 I altered his recipe slightly to work with the ingredients on hand, but the essential ingredients and flavors are the same.
Ingredients
3/4 cup chopped onion
8 oz package mushrooms, sliced
4 cloves garlic minced
4-5 boneless, skinless chicken thighs
2/3 cup red wine
1 1/2 cups coarsely chopped tomatoes (or whole cherry tomatoes)
1 14oz can diced tomatoes, with juice
3/4 cup pitted kalamata olives
1/2 cup artichoke hearts, cut into bite-size pieces (canned or marinated)
1 tablespoon chopped fresh thyme
1/4 cup coarsely chopped fresh basil
1 tablespoon ground turmeric
Olive oil, salt, pepper and crushed red pepper to taste
In a Dutch oven, sauté the onions and mushrooms in 1-2 tablespoons of olive oil, until the onions begin to soften. Add the garlic and sauté for about 1-2 minutes. Remove the contents from the pan and set aside. Add another tablespoon of olive oil to the pan and brown the chicken thighs for about 2-3 minutes per side. Add salt and pepper as desired. Remove browned thighs from the pan if you need more room for the un-browned ones, and add more oil as needed.
Once all the thighs are brown, add them back to the pan along with onion and mushroom mixture and all other ingredients. Lightly stir to combine. Bring to a gentle boil, and then reduce heat to simmer (uncovered).
My dad likes to simmer the mixture for 2-3 hours until the mixture has a meat sauce consistency with all the ingredients well 'blended'. He also suggested serving it after 40-60 minutes of simmering, at which point the thighs will still be intact (which is what I did). Serve over rice.
Thanks for the recipe Dad!