Pin It
Summer is here and my garden is finally producing some ripe, red tomatoes! I love the taste of fresh tomatoes off the vine, and one of my favorite ways to eat them is the Caprese Salad, which is simply tomatoes combined with fresh basil, mozzarella cheese, olive oil and balsamic vinegar.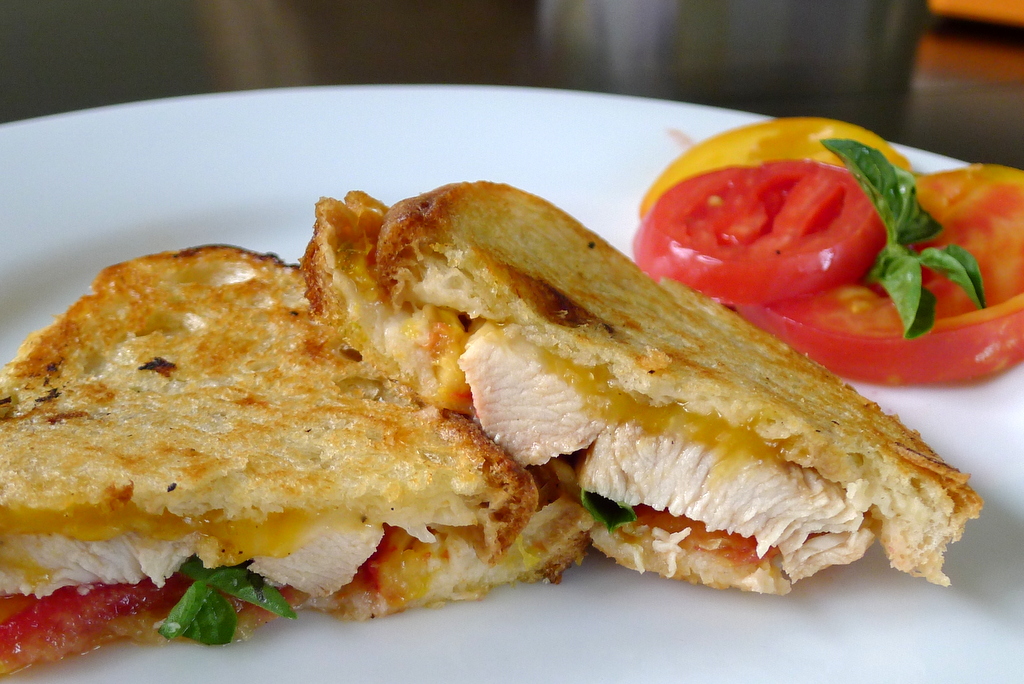 This panini has all the wonderful flavors of Caprese Salad, with chicken added to make this sandwich hearty enough for a main dish. Feel free to experiment with different ingredients (maybe add some pesto, procuitto, crushed red peppers, or spinach). Fresh mozzarella cheese is best, but I was out, so I had to use Colby-jack instead.
Ingredients
1 loaf Italian bread (ciabatta, etc), sliced 1-inch thick
Mayonnaise
Olive oil
2 large tomatoes, sliced and de-seeded (try heirlooms)
Handful of fresh basil leaves
Salt and pepper
Balsamic vinegar
Chicken, cooked and sliced
Mozzarella cheese, sliced
Heat a non-stick skillet over medium heat. Spread mayo on one side of a slice of bread, and spray the other side of the slice with olive oil (I use a Misto for this, but you can also brush the olive oil on with a pastry brush). Lay the bread in the skillet, olive oil side down. Place a tomato slice on top of the bread, then a few basil leaves, sprinkle with salt and pepper, drizzle with balsamic vinegar, top with a slice or two of chicken, and finally cheese. Place a second bread slice on top of the cheese.
Reduce the heat to low, if needed. Using a cast iron pan, or other heavy dish, press down on the sandwich for about 1 minute to flatten it. Spray the top slice of bread with olive oil. Flip the sandwich and then use the pan to press down on the sandwich again until the bread is golden brown and the cheese is melted.
Remove to a plate and repeat for the remaining sandwiches. Serve warm and enjoy!