Pin It
I really love chicken legs. Maybe because they come with their own handle, or maybe because they're also called "drumsticks", which reminds me of those yummy ice cream treats. . . but I digress.
This delectable chicken is coated with olive oil, lemon juice, and lots of fragrant spices, and is allowed to marinate for at least 24-48 hours. Be patient; the tender flavorful chicken will be worth the wait.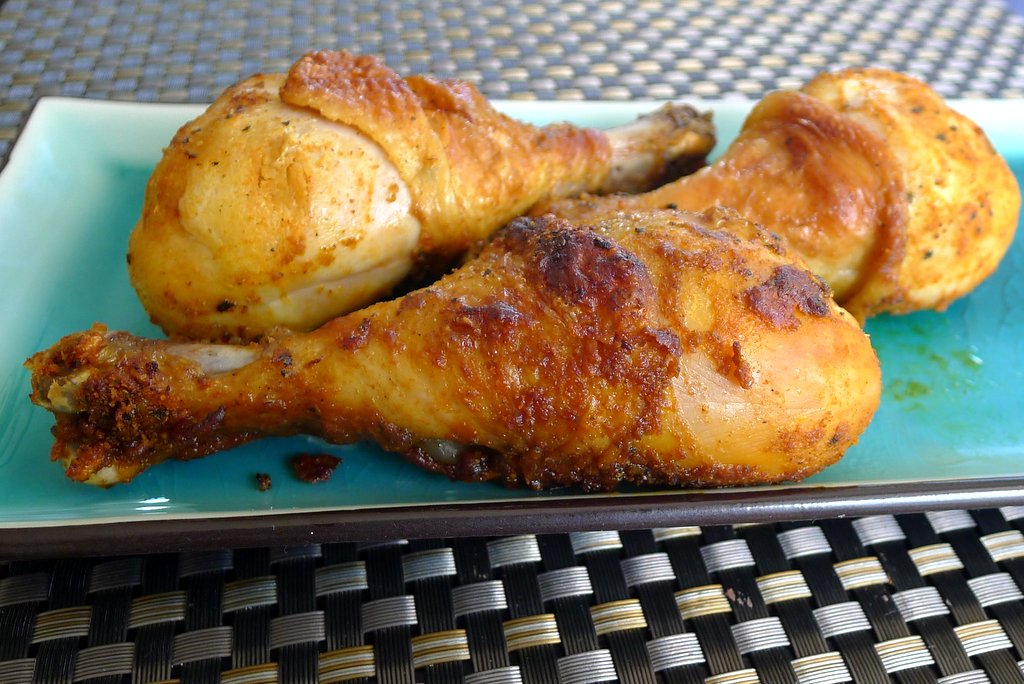 I broiled my chicken, but this would also be great on the grill. The cooking time should be about the same.
Ingredients
3 tablespoons olive oil
Juice from 2 large lemons
4 teaspoons sea salt
4 teaspoons paprika
1 tablespoon ground ginger
2 teaspoons ground cumin
1 teaspoon ground black pepper
1 teaspoon turmeric
1 teaspoon dried oregano
1/8 teaspoon cayenne pepper
4 pounds (approx.) chicken legs
For the marinade, mix all of the ingredients, other than the chicken, together in a large zip top bag. Add the chicken to the bag, seal the bag, and then toss to coat the chicken. Place the bag in the refrigerator and let marinate for at least 24-48 hours, turning the bag every 12 hours.
When ready to cook the chicken, move an oven rack to the lowest position in the oven, and move another oven rack near the top of the oven, about 5 inches from the heating element. Preheat the broiler.
Line the bottom of a broiler pan with foil, and place the slotted broiler pan on top. Remove the chicken from the bag and place it on the broiler pan, skin-side down. Discard the marinade.
Broil the chicken on the bottom rack of the oven for about 12-16 minutes, or until the chicken begins to brown. Use tongs to turn the chicken skin-side up and continue broiling on the bottom rack for another 10-15 minutes, or until the meat registers 165 degrees. Move the chicken to the upper rack and broil until the chicken is well-browned, and the skin is crispy, about 1 minute.
Serve immediately and enjoy!