Pin It
My local grocery store sells the most delicious quinoa salad in the deli case. It has quinoa, tomatoes, kalamata olives, feta cheese, artichoke hearts, and red onions, all mixed together with a mildly sweet lemon basil dressing. The salad is light and refreshing and has a great combination of sweet and savory flavors. I took one bite and I immediately started thinking about how I could recreate this salad at home.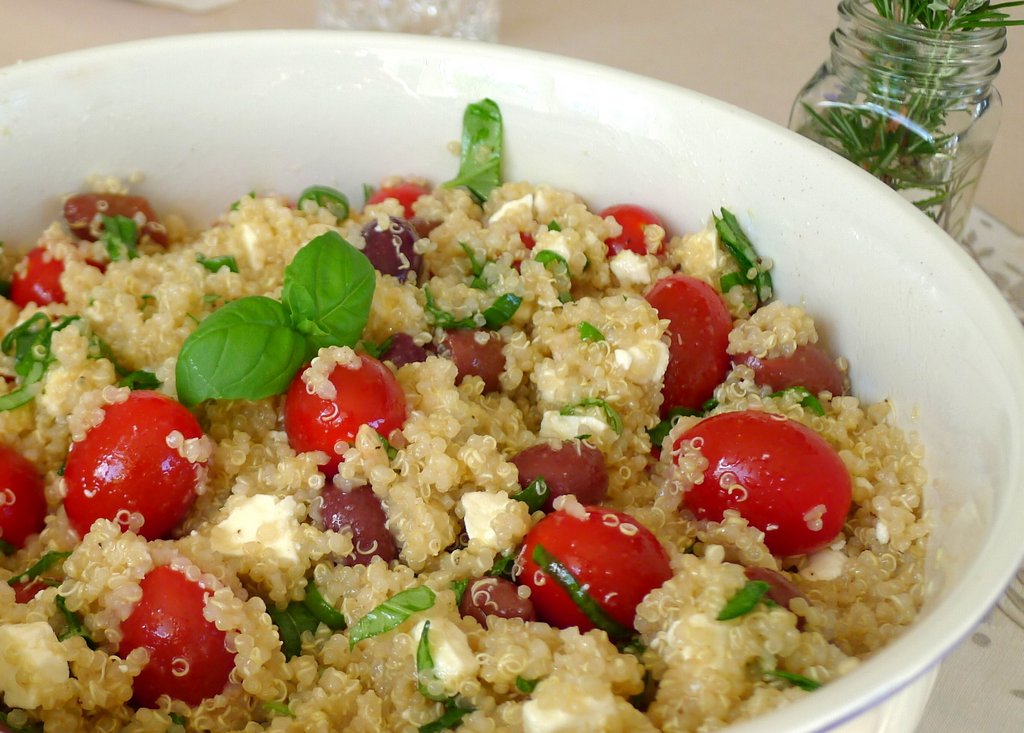 I served this salad at my mother-in-law's birthday dinner last night, and it was a big success! The bowl was practically scraped clean, but I managed to save some leftovers, which I had for lunch today, topped with some left-over salmon (yum!).
I omitted the artichoke hearts and red onions from my recipe, since they are not part of my low FODMAP diet, but feel free to add them to your salad, if you like. You can adjust the ingredients and quantities shown in my recipe below, but be sure to only use fresh basil. I had some trouble finding fresh basil in the grocery store, so I went to my local nursery and bought a basil plant for about the same price I would pay for a handful of basil as the grocery store. Now I can plant my basil plant and have fresh basil all summer long!
The quinoa will need time to cool in the fridge, so be sure to cook the quinoa the day before, or at least a few hours before you plan on serving the salad. This recipe will serve about 6-8 as a side dish.
Ingredients
1 1/2 cups uncooked quinoa
1 container of grape tomatoes
1/2 cup pitted kalamata olives
1/3 cup feta cheese
1 tablespoon sliced green onions
2 lemons, juiced (approximately 4 tablespoons)
2 tablespoons olive oil
2 tablespoons maple syrup (or honey)
2 tablespoons chopped fresh basil
Salt and pepper, to taste
To prepare the quinoa, first add the quinoa to a fine mesh strainer and rinse thoroughly under cold water to remove the bitter coating. Add the quinoa to a large saucepan or deep skillet (make sure it has a lid). Add 3 cups of water to the quinoa and bring to a boil. Once boiling, reduce the heat to low, cover with a lid, and simmer for about 20 minutes, or until all of the liquid is absorbed. I usually stir it once or twice while it's cooking and check the water level. Burnt quinoa doesn't taste good (don't ask me how I know).
Once the quinoa is cooked, let cool for 30 minutes, then transfer to a mixing bowl and place it in the refrigerator for several hours, or overnight.
To prepare the salad, remove the quinoa from the fridge (the quinoa should be cold), and add the tomatoes, olives, feta cheese, and green onions. Gently stir to combine.
In a small bowl, whisk together the lemon juice, olive oil, maple syrup, fresh basil, and salt and pepper. Pour into the bowl with the quinoa and gently stir until thoroughly coated with the dressing. Have a taste and add additional salt and pepper, if desired. Refrigerate until ready to serve.