Pin It
For years I've been trying to convince my children that fish is wonderful and delicious, but they've rejected every offering I've made that wasn't heavily breaded and deep fried. That is, until I made this delectable Creole red snapper.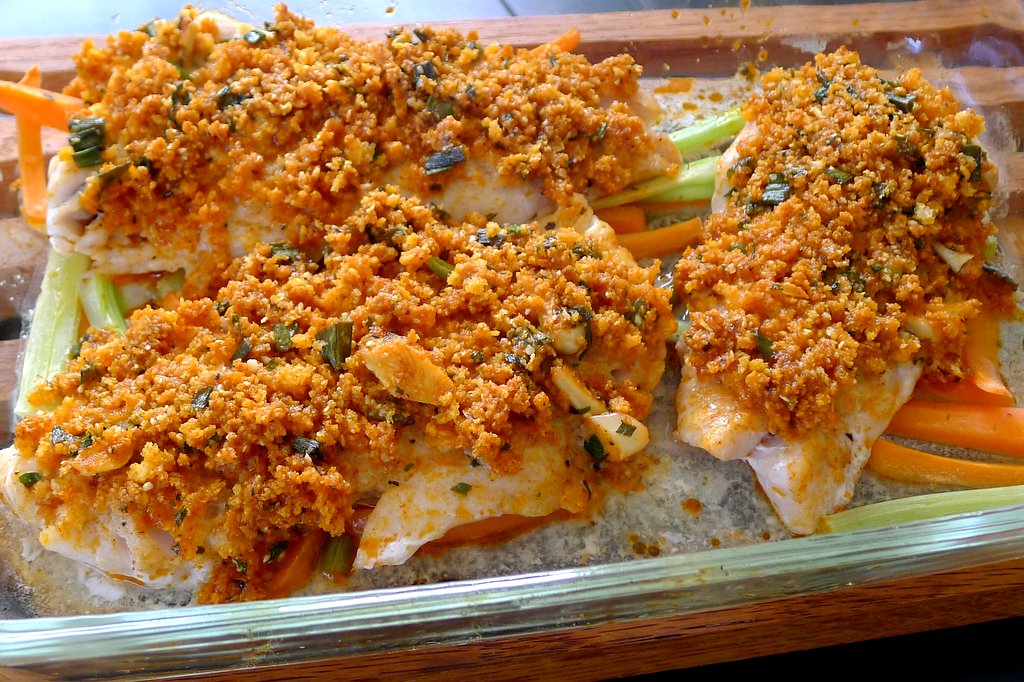 I never would have guessed that this would be the recipe to change their minds about fish, but even I was surprised how much I liked this tender, savory fish. My entire family loved it, which almost never happens (there is usually at least one dissenter).
Ingredients
1 large carrot
1 rib of celery
1 stick of butter
2 cloves of garlic, minced
1 teaspoon paprika
1/2 teaspoon Worcestershire
1/2 teaspoon salt
1/4 teaspoon black pepper
1/4 teaspoon dried oregano
1/8 teaspoon cayenne pepper
Juice of 1/2 a lemon
2 tablespoons chopped green onions
1 tablespoon chopped parsley
1 lb red snapper fillets, bones removed
1/2 cup panko bread crumbs
1/3 cup grated parmesan
Lemon slices
Preheat the oven to 400 degrees.
Chop the carrot and celery into pieces roughly 1/2-inch wide by 3-inches long and place on the bottom of a large baking dish. (Note: the veggies add flavor to the fish and also prevent the fish from sticking to the baking dish.)
Add the butter, garlic, paprika, Worcestershire, salt, black pepper, oregano, cayenne pepper, lemon juice, green onions, and parsley to a medium saucepan. Cook over medium heat until the butter is melted, stirring occasionally. Remove from heat.
Brush both sides of the red snapper with the butter sauce, and place the snapper in the baking dish on top of the carrot and celery pieces.
Stir the panko bread crumbs and parmesan into the remaining butter sauce, and then spoon the breadcrumb mixture on top of the snapper, spreading evenly.
Bake in the preheated oven for 10-20 minutes (depending on the size of the fillets), or until the fish flakes easily with a fork. Be careful not to overcook. Serve with lemon slices, and enjoy!
* adapted from Menu Musings