Pin It
You know what I love? Cookies. You know what I love even more? Delicious cookies that are healthy too, like these yummy banana chocolate chip cookies. They only have 6 ingredients: bananas, oats, peanut butter, chocolate chips, vanilla, and salt. Yep, that's right – no flour, butter, or sugar. I suppose one could argue that chocolate chips aren't really healthy, but we don't know any of those people, right?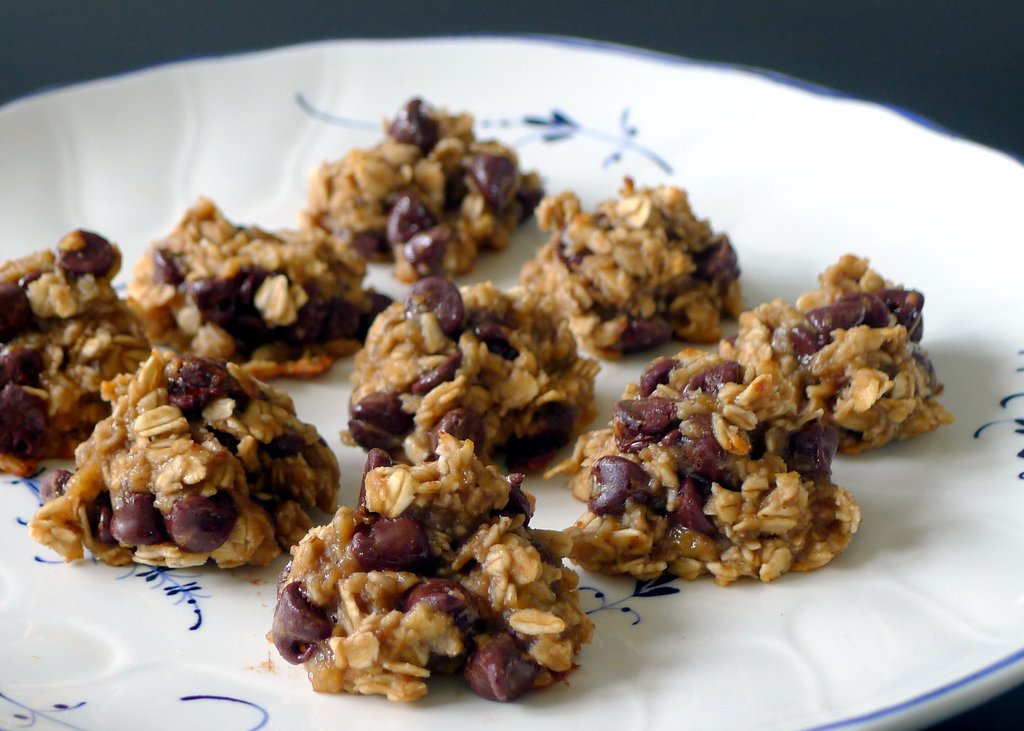 These cookies are super easy to make too; just throw all of the ingredients into one bowl, mix it up, and bake for 15 minutes. If you're wondering, yes, they do taste like bananas. I'm not a huge fan of bananas myself, but I really like these cookies. They remind me of chocolate chip banana bread. My oldest daughter doesn't like bananas very much either, but even she devoured these cookies (I may have neglected to tell her that bananas were one of the main ingredients).
The sugar in the bananas make the cookies plenty sweet, so no need to worry about that. In fact, I would recommend that you use semi-sweet or dark chocolate chips in this recipe; the bitterness will complement the sweet cookies nicely. As you can see from my photo, I didn't skimp on the chocolate chips. You can probably reduce the chocolate chips to 1/2 cup, if you want a less chocolately cookie.
I used ripe, but not overripe bananas (yellow, not brown). For those with peanut allergies, you can either omit the peanut butter, or substitute a different nut/seed butter. If you do omit the peanut butter, increase the amount of salt a bit.
Ingredients
2 bananas, mashed
1 cup uncooked oats
3/4 cup chocolate chips
2 tablespoons peanut butter
1/4 teaspoon vanilla extract
1/8 teaspoon salt
Preheat the oven to 350 degrees. Line a large baking sheet with a Silpat baking mat, or parchment paper.
Add all of the ingredients to a large bowl, and stir well to combine. If you used large bananas, you may need to add a bit more oats. The mixture should be sticky and wet, but not runny.
Plop rounded tablespoonfuls onto the baking sheet. (Note: I experimented with flattening a few of my "plops" before baking, but the taste and texture was the same.) Bake for about 15 minutes, or until the cookies are light golden brown on the bottom. Let cool a few minutes and enjoy!