Pin It
This refreshing salad is full of flavor and a perfect side dish (or light meal) to enjoy on a warm day. Look for bulgur wheat in the bulk bin department of your grocery store. Be sure to make this in advance, so the flavors in the salad can blend into yummy goodness.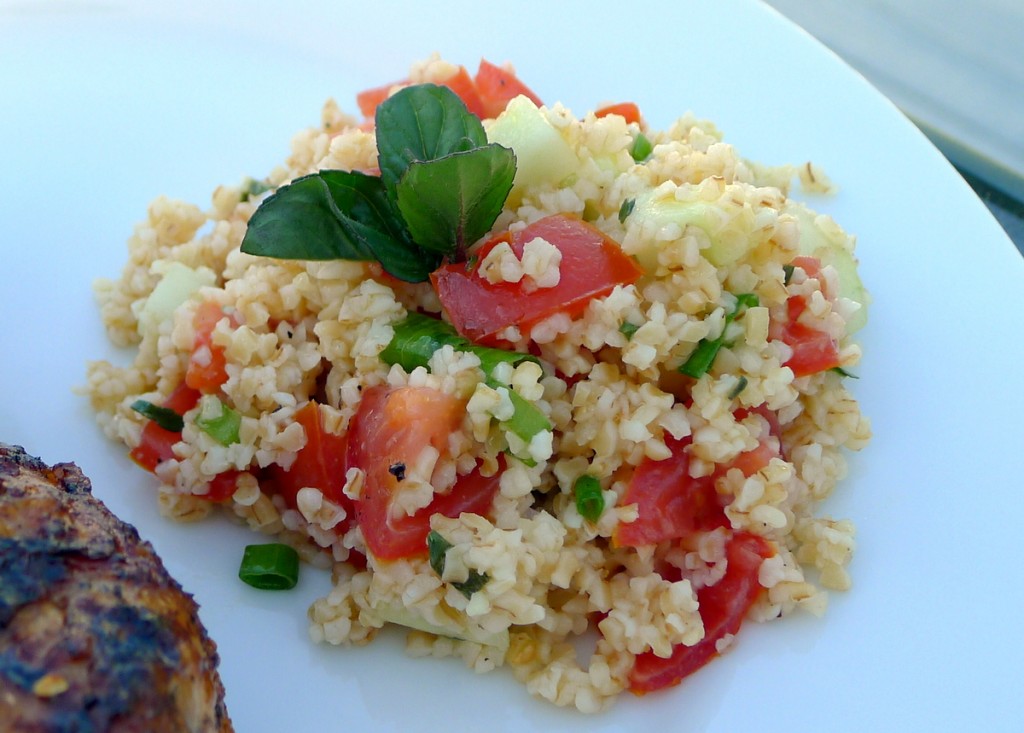 Ingredients
1 cup bulgur wheat
1 1/2 teaspoons kosher salt
1 1/2 cups boiling water
1/4 cup olive oil
2 lemons
1 lime
1-2 cloves of garlic, pressed
1 tablespoon finely chopped fresh mint leaves
1 cup diced tomatoes
1 cup diced cucumber
1/4 cup chopped green onions
Kosher salt to taste
Black pepper to taste
Mix the bulgur wheat and 1 1/2 teaspoons of salt together in a medium bowl. Pour the boiling water into the bowl (no stirring necessary). Cover the bowl with plastic wrap and let it sit on the counter for 30 minutes.
Meanwhile, add the olive oil to a medium bowl. Cut the lemons and lime in half and squeeze their juice into the bowl with the olive oil. The easiest way to do this is to stick a fork into the cut side of the lemon or lime, and then squeeze the lemon (or lime) around the fork, while simultaneously moving the fork in a circular motion around the inside of the lemon (or lime). (Note: use a fine mesh strainer over the bowl to catch the seeds.) Stir in the garlic and the mint.
When the bulgur wheat is ready, stir the dressing into the bulgur, cover and let sit in the refrigerator for at least 3 hours.
Before serving, stir in the tomatoes, cucumber, and green onions. Take a bite . . . or two . . . or three. Add salt and pepper, to taste, and enjoy!