Pin It
I guess I could call this a Mediterranean Pasta Salad since it has Greek and Italian ingredients, but the name isn't as important as the taste (which is great, by the way!). Tender pasta mingles with olives, feta cheese, tomatoes, chickpeas, and Italian sausage for a main dish salad full of flavor and interesting textures. Be sure to make the pasta salad (not the sausage) in advance, so the flavors have time to develop.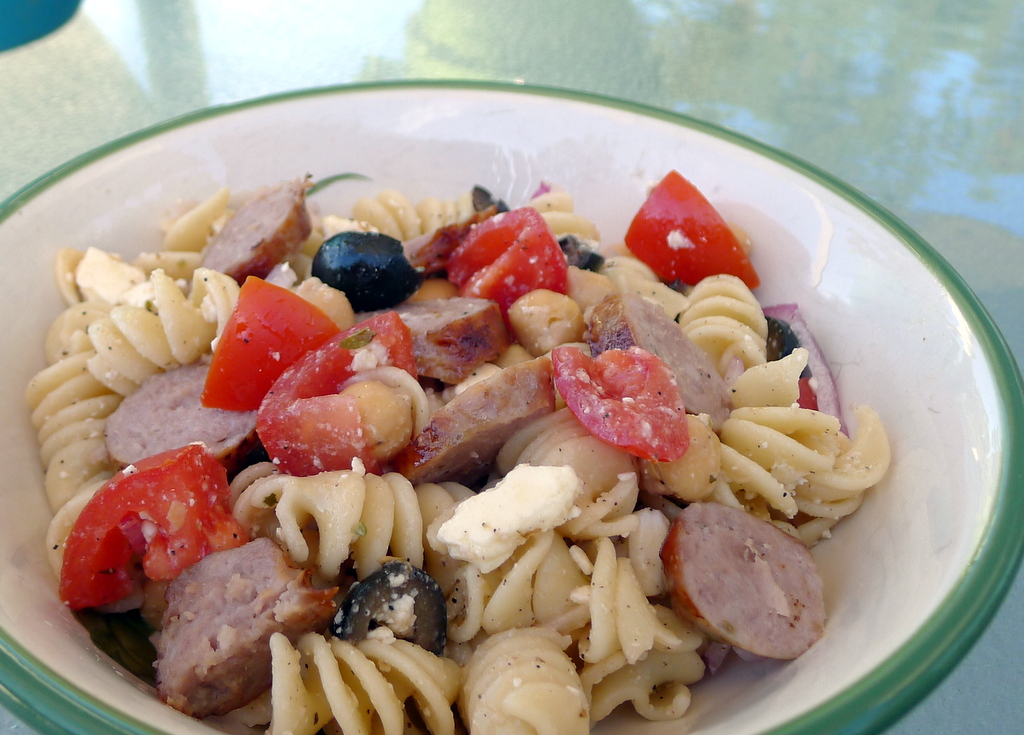 Ingredients
1/4 cup olive oil
1/4 cup red wine vinegar
1 teaspoon garlic powder
1 teaspoon dried oregano
1/2 teaspoon sugar
1/2 teaspoon ground pepper
1/2 pound corkscrew pasta, cooked and cooled
1 can garbanzo beans, drained and rinsed
1/2 can black olives, roughly chopped
3/4 cup feta cheese
1/3 cup diced red onion
1 1/2 cups chopped tomatoes
1 package Italian sausage
Wisk together the olive oil, red wine vinegar, garlic powder, oregano, sugar, and ground pepper in a large bowl. Add the cooked pasta, garbanzo beans, olives, feta, red onion, and tomatoes, and stir gently to combine. Cover and place in the refrigerator for several hours or overnight.
Add the Italian sausage to a large, cold skillet and add 1/2 cup of water. Cover and place over medium-low heat. Simmer until the water evaporates, and then remove the lid. Brown the sausage, turning frequently, until the sausage is cooked through.
Let the sausage cool slightly, and then cut into slices. To serve, fill bowls with the cold pasta salad, and place sausage slices over the top.