Pin It
This recipe produces perfectly browned chicken smothered in a rich sauce made with red wine, cream, and mushrooms. Chicken thighs are used because they stay moister than chicken breasts. The key to creating a rich sauce with complex flavors is to slowly reduce it . . . your patience will be rewarded!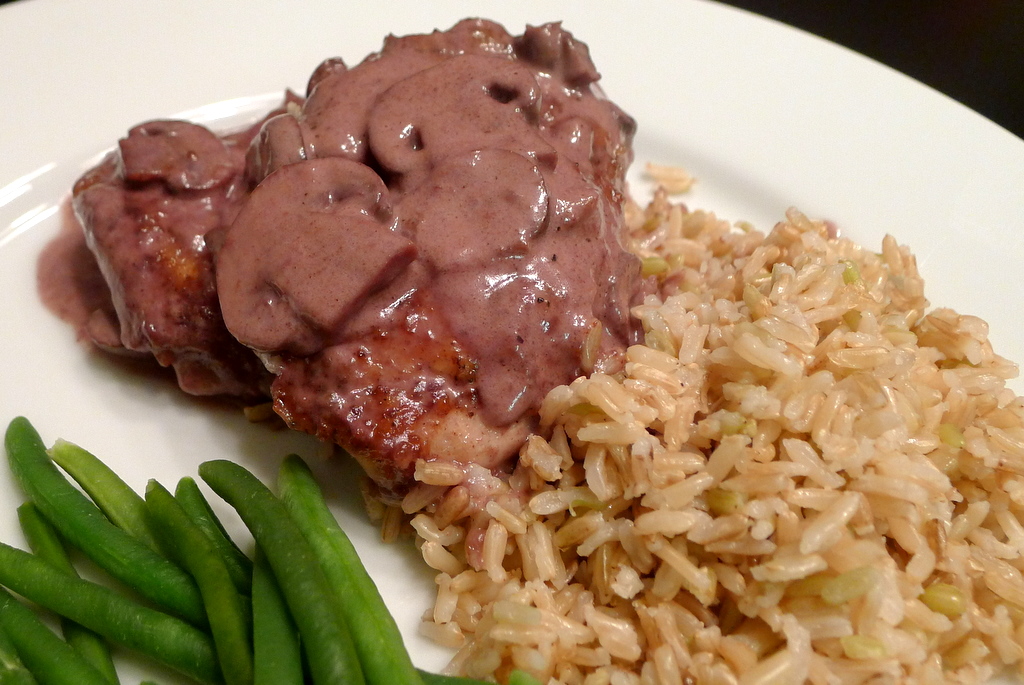 Ingredients
Flour
Salt and pepper
6-8 boneless, skinless chicken thighs
4 tablespoons butter
2 tablespoons olive oil
1 package baby bella mushrooms, sliced (about 1 1/2 cups)
1 cup dry red wine
1 1/2 cups heavy cream
In a shallow bowl, mix some flour (about 1/2 cup) with salt and pepper, to taste. Sprinkle the chicken with a bit more salt and pepper, and then dredge the chicken in the seasoned flour.
Heat the butter and olive oil in a large skillet over medium heat. Add the chicken (in batches, if necessary) and sauté, turning once, until deeply browned on all sides, about 8 minutes. Reduce heat to low, or medium-low, cover, and cook until the chicken is tender, about 10 minutes. Remove the chicken from the skillet and set aside.
Turn the heat up to medium, add the mushrooms to the skillet and cook for a few minutes, until the mushrooms begin to soften. Add the red wine, scraping up any brown bits stuck to the bottom of the skillet. Boil gently for about 4 minutes.
Add the cream, and reduce for about 4 minutes, or until the sauce begins to thicken. Add the chicken back to the skillet and continue to simmer for about 5 more minutes, or until the sauce is reduced.
Serve the chicken and sauce over rice or pasta, or with a crusty piece of bread, and some tender veggies.