Pin It
Perfectly sautéed chicken breasts covered in a creamy bourbon sauce – yum. My husband loved this recipe and has already asked me to make it again! Pounding your chicken breasts to an even thickness before cooking will ensure that the chicken cooks evenly and turns out juicy and delicious.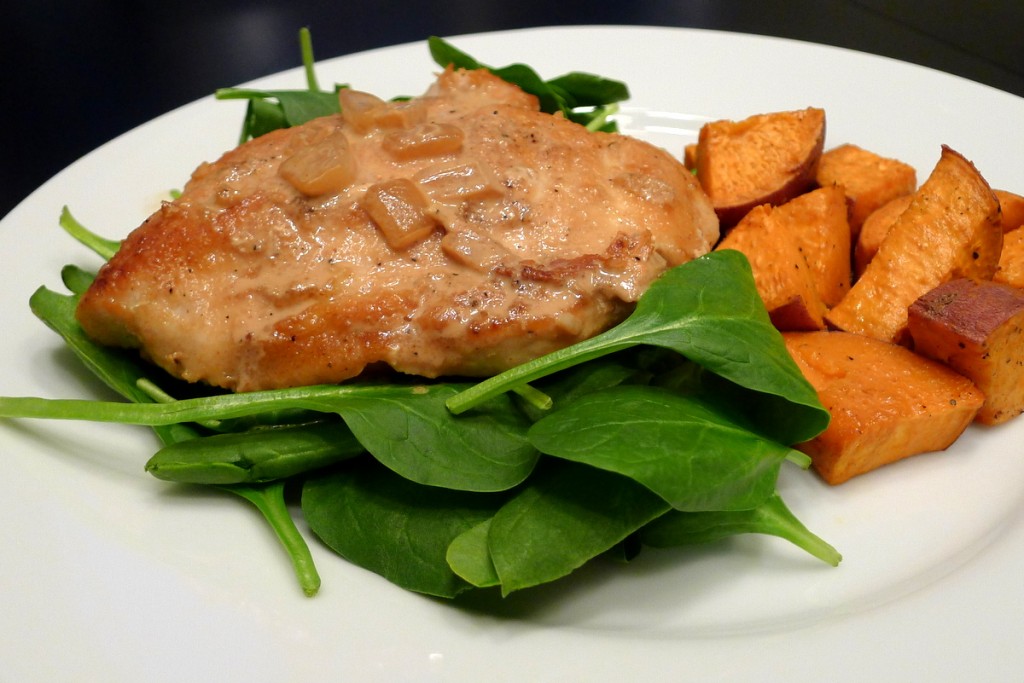 Ingredients
4 boneless, skinless chicken breasts
Salt and pepper to taste
1 tablespoon whole wheat flour, for dusting
2 tablespoons olive oil
3 garlic cloves, minced
1/2 cup chopped onion
4 tablespoons bourbon
1/2 cup chicken broth
1/2 cup half-and-half
Fresh spinach (optional)
Place the chicken breasts in a gallon-sized zip-top bag and seal the bag, making sure to remove most of the air. Using the smooth side of a meat pounder/mallet, pound the chicken until flat and uniformly thick.
Remove the chicken from the bag and place on a large plate. Sprinkle both sides of the chicken with salt and pepper, to taste, and then dust both sides of the chicken with the flour. The flour will help the chicken develop a nice brown crust while cooking.
Heat the olive oil in a large stainless steel skillet over medium-high heat. Add the chicken (as many pieces that will fit in the skillet, without touching) and sauté until browned and cooked through, turning once. Try not to disturb the chicken too much while it's cooking. Leaving the chicken undisturbed will ensure that the juices are retained and a nice golden brown crust is developed. I usually place the chicken in the hot skillet and then let it sizzle for 30 seconds to 1 minute. Then I shake the skillet vigorously to see if I can dislodge the chicken from the skillet (be careful when doing this). If the chicken is stuck to the skillet, I will use tongs to gently un-stick (that's a word, right?) it from the skillet. Then I vigorously shake the skillet every 30 seconds or so to ensure that the chicken doesn't stick again.
Remove the cooked chicken from the skillet and keep warm (I usually just loosely cover them with aluminum foil). Reduce the heat to medium-low. Add the garlic and onions to the skillet and cook until tender, without letting the garlic brown. Add the bourbon and cook for about a minute. Add the chicken broth and half-and-half and cook for about 2 or 3 minutes until reduced and slightly thickened (make sure the sauce doesn't boil vigorously, or else it may break).
Return the chicken to the skillet to reheat. Serve the chicken with the bourbon sauce poured on top. If desired, serve the chicken and sauce over fresh spinach leaves. The heat of the chicken and sauce will lightly wilt the spinach. Serve with sweet potatoes or your favorite Southern side dish.