Pin It
In the mood for really amazing pasta? This recipe is restaurant quality, without the restaurant price. The combination of parmesan, cream, and pesto make a heavenly sauce that is to die for (not literally, I hope, but those of you with high cholesterol should probably skip this one . . . did I mention the sauce has butter too?). You can lower the fat a bit by substituting half-n-half for the heavy cream, but the sauce won't be as thick.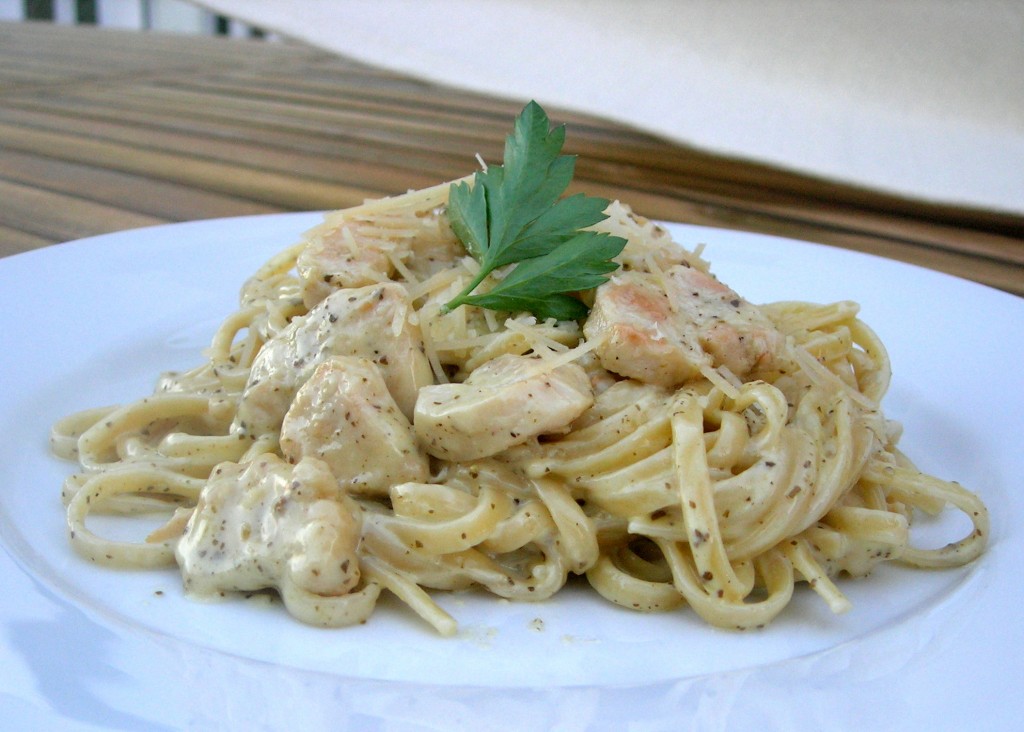 This is an excellent dish to make for a special occasion, or if you want to impress your dinner guests. The recipe below will make about 4 servings.
Ingredients
2 boneless, skinless chicken breasts, cut into bite-sized pieces
Salt
Black pepper
1/2 pound linguine pasta
1/4 cup butter
1 cup heavy cream
1/4 teaspoon ground black pepper
1 cup grated Parmesan cheese (plus more for garnish)
2 tablespoons prepared pesto
Heat 1 tablespoon of olive oil in a skillet over medium-high heat. Add the chicken and cook, stirring frequently, until cooked through. Season with salt and pepper to taste, and set aside.
Bring a large pot of water to a boil and cook the linguine according to package directions. Meanwhile, melt the butter in your largest skillet, over medium heat. Stir in the cream and 1/4 teaspoon black pepper. Cook for about 7 minutes, stirring constantly. Remove the skillet from the heat and gradually stir in the parmesan cheese. After the cheese is added, put the skillet back on the heat and reduce the heat to low or medium-low (don't let the sauce boil). Stir in the pesto and cook the sauce, stirring constantly, for about 3 minutes, or until thickened.
Add the linguine and cooked chicken to the sauce and toss gently to coat. Serve with fresh parmesan cheese and a big green salad. Enjoy!