Pin It
Ahh, Cabo San Lucas, I can picture it now: sitting at a waterfront cantina, feeling the warm breeze as I gaze out at the blue ocean and enjoy my tasty fish taco. If a trip to Cabo didn't make it on your to do list this summer, you can still treat your taste buds to a vacation by making these delicious fish tacos. This recipe (which I adapted from a recipe I found on allrecipes.com) is easy and rivals most restaurant versions that I've tried.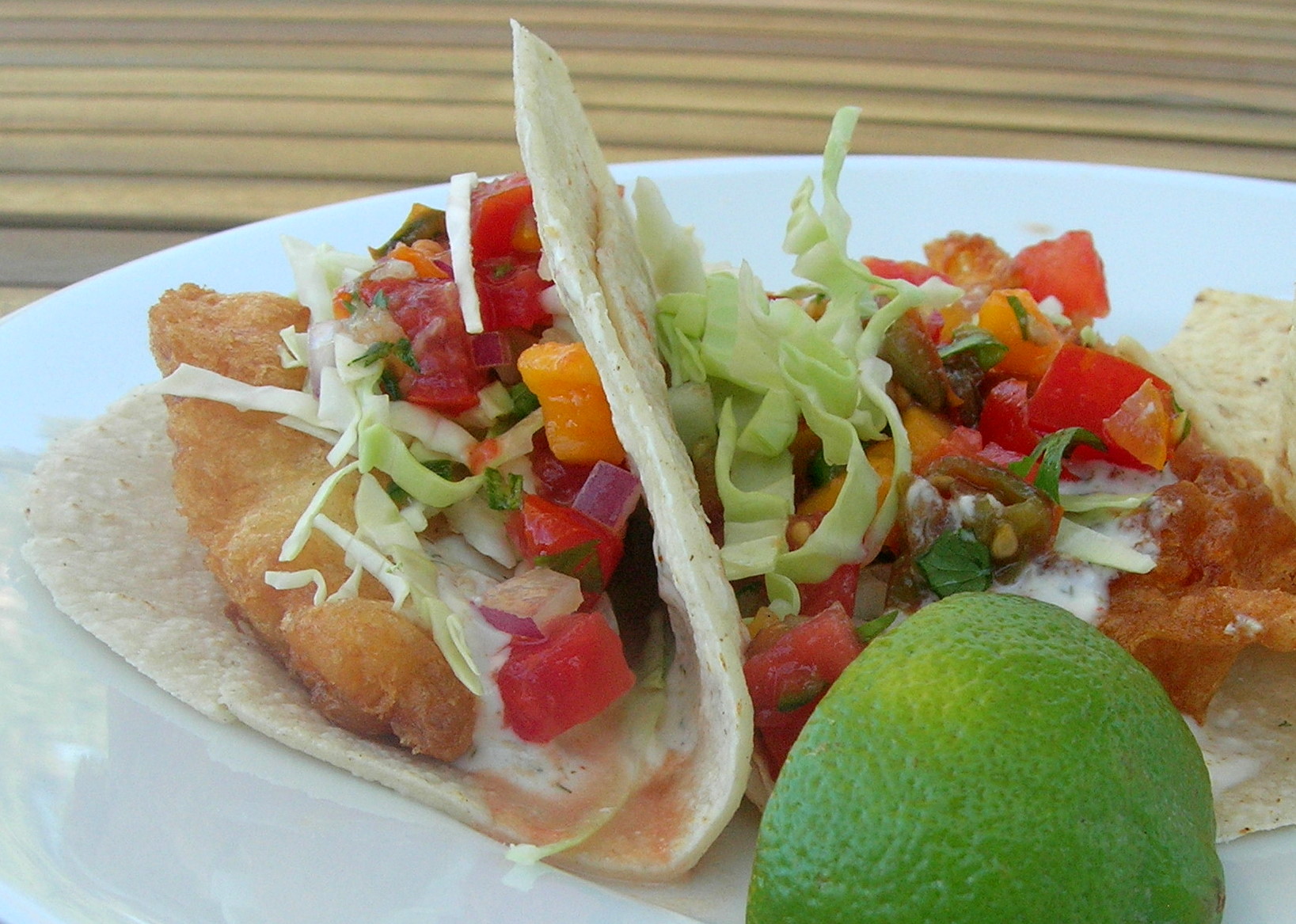 Ingredients
1 cup all-purpose flour
2 tablespoons cornstarch
1 teaspoon baking powder
1/2 teaspoon salt
1 egg
1 cup beer
1/2 cup plain yogurt
1/2 cup mayonnaise
1 lime, juiced
1 jalapeno pepper, seeded and minced
1/2 teaspoon dried oregano
1/2 teaspoon ground cumin
1/2 teaspoon dried dill weed
1/4 teaspoon ground cayenne pepper
Oil for frying
1 pound cod fillets, cut into 2 to 3 ounce portions
1 package corn tortillas
1/2 medium head cabbage, finely shredded
fresh salsa
lime wedges
To make beer batter: In a large bowl, combine flour, cornstarch, baking powder, and salt. Blend egg and beer, then quickly stir into the flour mixture (don't worry about a few lumps).
To make white sauce: In a medium bowl, mix together yogurt and mayonnaise. Gradually stir in fresh lime juice until consistency is slightly runny. Season with jalapeno, oregano, cumin, dill, and cayenne.
Heat oil in a heavy frying pan (the oil should be about 1/2 to 3/4 of an inch deep).
Dust fish pieces lightly with flour. Dip into beer batter, and fry until crisp and golden brown, turning once. Drain on paper towels.
Heat a pan (non-stick, if you have it) over medium heat. Add a tortilla to the pan and cook them for about 30 seconds on each side. Keep warm in a tortilla warmer, if you have one, or on a plate covered with a dish towel.
Place fried fish in a tortilla and top with shredded cabbage, white sauce, and fresh salsa. Serve with lime wedges and a cold cerveza (we're pretending to be on vacation, remember?).